In another life, I worked as a writer/columnist at both the Benton Evening News and the Southern Illinoisan. During my decade at the Evening News I also dabbled in sports, covering a few games and writing a weekly sports column, a kind of "catch-all" column where I wrote about players, coaches and other tidbits happening in Southern Illinois sports. I've always been a sports buff, so I had great fun with the column and since I was doing play-by-play for Benton High School sports on WQRL, the two went together very well.
I reminisced this week about those columns and spent too much time on the IHSA website and decided to put on my sports' writer's hat, dust off the keyboard and cut loose with a few thoughts about the undefeated Benton Rangers and their much-hyped trip to Mt. Carmel on Saturday to take on the also undefeated Aces. Both teams are 11-0, in the Elite Eight and looking to punch their ticket to a Class 3A semi-final matchup on Nov. 20 against the winner of Tolono Unity and Williamsville. The game has all the makings of a classic.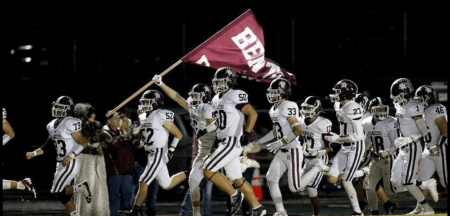 Here's a look at a few thoughts on my mind less than 48 hours before game time in Mt. Carmel.
0
High school football in Illinois is the only sport where teams have to qualify to participate in post-season play. Qualifying for Week 10 and beyond is determined by a team's wins and losses during the regular season. In short, it is not something that happens every year, sometimes not every five years or decade. That's one of many things that make football playoffs special. This is Benton's 10th post season appearance and the Rangers have an overall 13-9 record in post season action. Benton has lost an opening round game only one time, a 10-7 loss to Harrisburg in 1998 on a field goal that hit the upright and went through the goal posts. The Rangers have advance to second round action four times (1995, 2011, 2012 and 2019) and to the quarter-finals (3rd round) three times (1997, 1999 and 2002). Benton has advanced to semi-final action only one time in 2001.
0
It would be unfair to mention teams that made it to post season play without mentioning the 2020 Benton team that, like all Illinois schools, was denied a chance to play in the fall by the Covid pandemic. That team came back in the Spring of 2021 to post a 5-1 record in a season shortened to only six games with no playoffs. The 2020 Rangers will always be remembered as the "what-if" and "what-could" Benton team – as in what if there was a full season, what could they have accomplished. Most observers, even those who don't wear maroon and white, believe the '20 team could have made a deep playoff run. But again…what-if…and…what-could. I still get a headache sorting out the fact that there was no football season in 2020 and two football seasons – 2020 (spring of 2021) and 2021 (fall of 2021). Ugggh!
0
Despite the fact that his first team went 1-8, Benton coach Justin Groves has turned in an impressive four-year stint, while dealing with a global pandemic to boot.
After the 1-8 record in 2018 Groves and the Rangers have reeled off records of 9-2 in 2019, 5-1 in 2020 and stand at 11-0 here in 2021. That adds up to a total of 26-10 (.722 percent). Take away the 2018 record and Groves is 25-3 (.892 percent) over the last three years. That's a remarkable record by any standard!
While we are looking at coaches' records…
Hubert Tabor, who has his name attached to the high school football field on East Main Street, finished with an overall record of 83-25-4 (.741) during his 13 years as Benton coach. Former Benton coach Jeff Roper also coached 13 years and matched Tabor for wins with an overall record of 83-50 (.624 percent). In all fairness to Roper, his last four years resulted in a 10-26 record. If you do the math, minus those final four years Roper had an incredible 73-24 record after nine seasons, taking the Rangers to post season play six times (1995, 1997, 1998, 1999, 2001 and 2002).
0
Dictionary.com defines the word "nemesis" this way:
the inescapable agent of someone's or something's downfall; a long-standing rival; an archenemy; a downfall caused by an inescapable agent.

Or, if you are a longtime Benton Rangers football fan, you might look that definition up and find a Mt. Carmel Golden Aces football logo. In other words, if Benton has had a nemesis in post season play over the past 26 years, it's the Aces.
Let me explain. Of those previous nine wonderful trips to play November football, Mt. Carmel has played the spoiler four times – count 'em…1, 2, 3, 4 – in eliminating Benton. Three of those times have been at the friendly confines of Tabor Field, with one loss coming at "The Snake Pit" in Mt. Carmel.
Mt. Carmel defeated the Rangers 28-0 in 1995 and then beat Benton 35-23 in a semi-final matchup in 2001. The Aces turned the trick twice more with a 45-6 win in 2002 and beat Benton in 2011 by a score of 42-9. In three of those four years 01, 02 and 11, Mt. Carmel went on to play in the Class 3A state championship game, losing all three.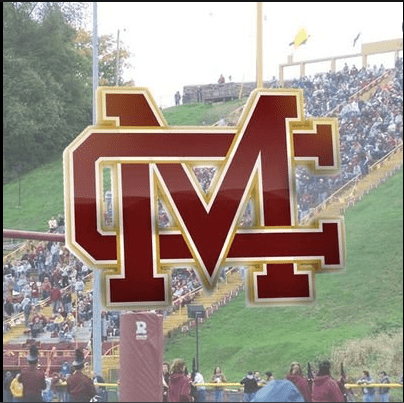 To put this in perspective, in the other five elimination losses, no team has turned the trick more than once. That list includes Harrisburg, Carterville, Du Quoin, Newton and Effingham. Let those numbers and that definition soak in a little. If Benton's journey down the playoff trail has had an "inescapable agent" or a "long-standing rival" or an "arch-enemy" it is clearly and certainly the Golden Aces from Mt. Carmel. In total, the Rangers are 0-4 against the Aces in past years post season play and the only other time on record of the two teams playing was a regular season game in 1922 — 100 years ago — when Benton, coached by Hubert Tabor, defeated the Aces 38-0.
Let me hurriedly add this next sentence. But, I sense something different this year. The past dread of heading to the Snake Pit has been replaced by anticipation and excitement, almost a mentality of "I can't wait until 2 p.m. Saturday." The "oh-no" attitude of years past when seeing the opponent was Mt. Carmel has turned into "oh-yeah" I think we can get this done."
This Benton team is playing its best football of the year at the very best time of the year and seems to continue to improve each game, even this deep in the playoffs. The Rangers have a swagger, and it's a really good swagger. It's not a rude or cocky swagger, but one of determination, focus and most importantly confidence.
The Benton coaching staff will have this team prepared with the X's and O's for Saturday's quarter-final game, but they will also have them prepared for Riverview Stadium (AKA Snake Pit). The Rangers will not be intimidated or in awe of their surroundings and most people I speak with believe this is the year the Rangers get over the hump and end the stranglehold the Aces have had on their post-season dreams.
I mentioned earlier that I used to write a weekly sports column for the Evening News. One of the joys of that weekly adventure was picking winners in Friday night high school football games. I labeled myself the "Fearless Pigskin Prognosticator." This past week, as I was tidying up in my office, I ran across my old Evening News Chrystal Ball that I used to figure out my weekly winners. So, I thought…what the heck, let's dust it off, fire it up and see what happens.
All things considered, I like the Rangers in this one, as Benton puts this nemesis nonsense to rest.
Benton 28 Mt. Carmel 16
Thanks for taking the time to read this and God's blessings to you!