By Jim Muir
A Halloween-themed event coming to Benton this weekend might best be "chalked up" to an overload of talent, enthusiasm and ambition by a pair of gifted Franklin County artists.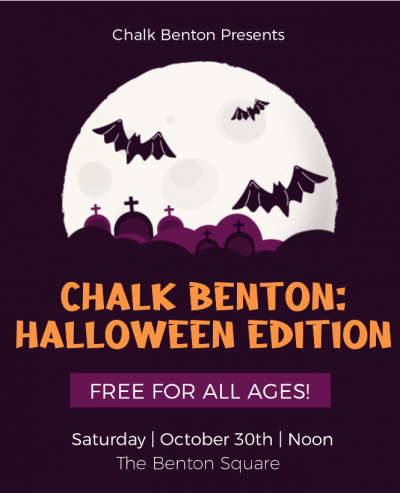 Triston Bigham, of Benton, and Jillian Grace Prudent, of Valier, have combined forces to create "Chalk Benton" – an event where a group of people get together and draw on sidewalks with bright-colored chalk. Previous events in Benton, including one at beautiful Benton Community Park, have drawn large crowds and chalk artists ranging from small children to senior citizens.
The latest event will take place Saturday, Oct. 30 on the Benton Public Square where the sidewalks around the historic square will provide the canvas for chalk artists to create temporary masterpieces. "Chalk Benton: Halloween Edition" is scheduled to begin at 12 noon.
"Our goal is just to get people to come out and show off their art skill with chalk," said Triston, a 2020 graduate of Benton High School. "We have younger people, older people and all ages in between and it doesn't matter about your talent level. It's all about having a good time."
The chalk event on Saturday will take on a heavy Halloween theme with several businesses providing "Trunk-Or-Treat" goodies for children and there will be several other family-oriented activities.
"Chalk art is very colorful, so my goal is to just add some life and color to the Benton Square," said Jillian, who is a 2021 graduate of Sesser-Valier High School. "People who want to participate don't even have to bring chalk, we'll provide the chalk. So, all you have to do is show up."
Triston and Jillian both emphasized that clean up from the chalk drawings is easy – just wait for rain.