CARBONDALE, Ill. — Southern Illinois moved up three spots in the national rankings to No. 4 in both the Coaches and media polls this week, as it prepares to host No. 22-ranked North Dakota on Saturday at 2 p.m. It's Homecoming Weekend at SIU, as well as Saluki Hall of Fame weekend, with seven inductees entering the Hall on Friday night. Five inductees will be recognized during the game.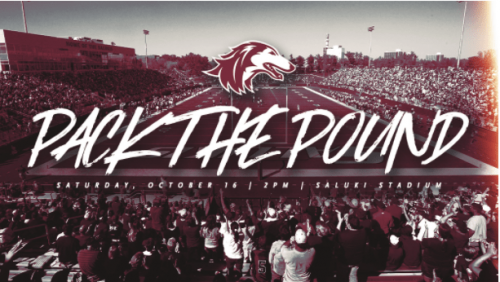 The last time the Salukis (5-1, 3-0) were ranked in the Top-4 was on Sept. 6, 2010, when Southern was ranked No. 2 in the nation. In its last eight games versus ranked opponents, SIU is 6-2. The six wins are against #1, #2, #3, #4, #15 and #25.
SIU is the lone team atop the conference standings at 3-0. After beating No. 2 South Dakota State last week, Southern is tied with SDSU for the best record in the MVFC during the last 16 games, 11-5.
The Missouri Valley Football Conference awarded SIU quarterback Nic Baker (offensive), punter Jack Colquhoun (special teams) and guard ZeVeyon Furcron (O-Lineman) its Player of the Week awards.
The Last Time
SIU was 3-0 in the MVFC was 2009 when it went 8-0.
SIU was 4-0 in the MVFC was 2009 when it went 8-0.
SIU posted a 5-1 overall record was 2014.
SIU posted a 6-1 overall record was 2009 when it started 11-1 and finished the season 11-2.
Last time out: SIU 42, SDSU 41 (OT)
In its second consecutive overtime game, SIU rallied from a 20-0 second quarter deficit, tied the game with 34 seconds left in regulation and won in overtime when SDSU failed to convert a two-point conversion attempt.
SIU RB Donnavan Spencer raced 10 yards for a TD on the fourth play of the first overtime possession. PK Nico Gualdoni followed with a successful PAT.
It was the first time ever SIU played overtime games in consecutive weeks and it was the second time ever SIU played two overtime games in one season.
It was SIU's fourth consecutive overtime win. Three of those four victories came on the road. SIU is 8-4 lifetime in overtime games.
It was the second largest comeback in Saluki history and the largest of the Coach Nick Hill Era.
QB Nic Baker passed for 359 yards, four TDs, and zero interceptions.
WR Landon Lenoir caught a career-high 10 passes. Two were for touchdowns.
QB Nic Baker
In his first season-opening start as a college QB, Baker set the school record for passing yards in one game when he passed for 460 yards in the win at SEMO on Sept. 2, 2021.
Though he's quarterbacked just 12 games in his Saluki career, Baker is in 17th place in career passing yards at SIU with 2,394 yards.
He passed for 395 yards, four touchdowns and zero interceptions at #2 SDSU last week..
Baker is 8-1 as a starter
WR Landon Lenoir
Lenoir ranks No. 2 in the nation in receiving touchdowns (7) and No. 6 in yards (576)
The sixth year WR is in third place on SIU's career receptions list with 182.
Lenoir is in third place on SIU's career receiving yardage list with 2,315.
Lenoir is tied for eighth place on SIU's career receiving TDs list with 14.
Going into the North Dakota game, Lenoir has caught passes in 26 consecutive games.
He caught a career-high 10 passes in the Oct. 9, 2021 win at South Dakota St.
Head Coach Nick Hill's Weekly Press Conference – 10/11/21
Opening Statement:
"I'm really proud of our team. To go on the road and beat a really good football team – it was an exciting game, obviously, down to the last play. It's two weeks in a row now that we've won in overtime and really, the same scenario in overtime, so I'm really proud of our guys and their commitment to play hard and doing what we set out to do. I'm proud of them for putting it into action when it's called upon. You can have a lot of meetings, things you stand for, put a lot of things on paper, and motivations up on the wall that every team has. But it really comes down to being down 20 [points] on the road, are you going to be that?
I think our team has proven now, over and over, that that's what we are about, that's what wins football games. It's not always going to be easy or pretty or go smoothly, but we have to get a lot better in some areas and parts of a team. There are some things that we own up to, look at, and try to grow, and that is what it's going to be until the season is over.
I'm looking forward to another tough opponent this weekend, a team that got after us at the beginning of the season this past year and had an excellent year. It feels like we haven't played a lot of home games – just how this season was planned. They've been two great environments; we're looking forward to Homecoming. We want to set a standard that all of our alumni want to come back and are proud to be back – especially the past players. It obviously hits close to home with me being a past player, I want to build a program where everyone feels welcome to come back."
On #4 FCS ranking:
"You sign up to be a head coach and take over a program, there is a lot of pride, but none of our goals, standards, or visions of this program is to have some moments. It's staying a championship program and to have expectations to be in those moments a lot. It's also winning a lot of games and winning a lot of championships – and we have not done that yet. Sunday in the team meeting, we talked about having the big goals, but working on the small, everyday tasks that allow you to get to those big goals.
Being 5-1, ranked #4 six games in, and winning on the road at South Dakota State – that's not on any piece of paper. There's a standard of showing up each week and winning games. I told the team, you want to play in big games, you earn the right to play in big games, so you have to win all the games and be a good team. As good as the feeling is in the locker room and the plane ride home, we are looking ahead and have the feeling that we want to do it again.
On stability at quarterback:
"It's everything to win. With whoever you put back there and put together a plan, you have to win football games and I think we've done that the last three seasons since '19, the spring, and then now with a few different guys. You ask any coach that your quarterback is "the guy", and he knows he's the guy with that confidence there – it's really big. I feel good about our guy right now [Nic Baker] and we have to continue to do that."
On alumni returning this week:
"I'm excited, I'm going to see a lot of guys. Every Wednesday, I meet on Zoom with the Gridiron Club, which is nice and we'll have a lot of people back. They'll get the opportunity to come to practice on Friday before the game, introduce themselves to our team, tell us what year they played, some stories will be told. It's always an exciting time for our players to meet them with a sense of pride to come back. I want them to be able to know that they're back, it's Homecoming, bring your families, talk about the good 'ole days, meet up with your friends; it's an important part of your program."
On the offensive line:
"We're continually getting better. I don't know a coach in the country that's going to say they have it all figured out front. I think Chase [Evans] is getting better and better. It's anchored by Z [ZeVeyon Furcron], and then both tackles have gotten strong together and a lot of consistent starts there. And then Jimmy [Wormsley] came in and battled and I've been super proud of Jimmy. We have a "Be A Man" award we give out and Jimmy Wormsley was our guy this week. He was just waiting his turn from being a backup, then you get to start and start one of the biggest wins that we've had. Building up the depth, consistency with coach [Trevor] Olson – coach Olson and I have coached the same offense for now six years, every person on that line has been recruited and heard the same voice."