David E. Easley, 74, of Benton, passed away at 9:10 a.m., on Friday, October 8, 2021, at his home surrounded by his loving family.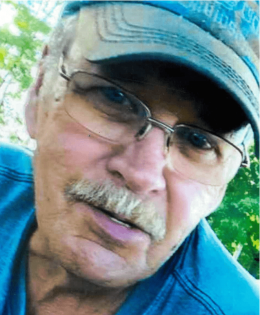 He was born on May 26, 1947, to Clyde and Nadine (Cantine) Easley at Good Samaritan Hospital in Mt. Vernon, IL. He attended school at Benton Consolidated High School. On October 6, 1986, he married the former Olga M. Webb in Benton, IL. To this union they had 6 children. David started his career as a truck driver hauling gravel, he then went to work for Old Ben Coal Company as a coal miner for 23 years, following that he would retire from E.T. Simonds Construction Company as a heavy equipment operator.
David was a member of the Sons of the American Legion, Benton, IL., and the Benton Eagles. He was a loving husband, father, grandfather and brother. David enjoyed riding his motorcycle, playing pool and spending time on his side by side.
He is survived by his loving spouse of 35 years, Olga M. Easley; six children, Kevin (Gena) Easley of Buckner, IL, Berry Easley of West Frankfort, IL, Jerry (Carol) Easley of AL, Lisa Easley of West Frankfort, IL, Jamie (Robbie) Williams of Benton, IL and Mary Sloan of West Frankfort, IL; eight grandchildren, Brittany Easley, Preston Easley, Bridget Easley, Cody Easley, Issac Parcell, Jade Parcell, Brandon Williams and Abby Williams; one brother, Alan Easley of AK; and one sister, Connie Easley of Benton, IL.
David was preceded in death by his parents Clyde C. and Nadine B. Easley.
Funeral arrangements have been entrusted to Pate Funeral Home, 301 South Main Street, Benton, IL.
Per David's wishes cremation will take place, a private family memorial gathering will be held his residence.
David's family would like to express their appreciation to Bill and Viola Edwards and Stacye Key for all the care and support.
Online condolences can be given at www.patefh.com.