By Jim Muir
There is an old adage that says, 'never meet your heroes.' The theory behind that statement is simple: there's a good probability you'll be disappointed.
After a recent whirlwind trip to Atlanta, GA, Craig Garner would beg to differ with that familiar and often-used line about meeting our heroes.
Garner, a longtime high school teacher in Sesser, IL, a small farming community in southern Illinois where he was born and raised, recently met his boyhood idol, former Atlanta Braves star, Dale Murphy, and the results, in Garner's own words were: "unbelievable, just an incredible experience."
In order to understand the importance of Garner meeting his hero, the calendar must be backed up a few decades to the 1980s when sports fans throughout the Midwest received Atlanta Braves games, via superstation, Turner Broadcasting System (TBS).
Garner said the availability of games to watch was instrumental in him becoming a fan, but said Murphy's consistent, hard-nosed style of play made it easy to become a fan.
When I was young, there was no out-of-market stuff, so we could see the Braves on TBS, the Cubs on WGN and I fell in love with Dale Murphy back in the day," said Garner. "I started watching him play when I was probably six or seven years old. I had a little romance with the Cardinals – I loved Scott Rolen and Jim Edmonds – but for the most part I've been a Braves' fan all these years."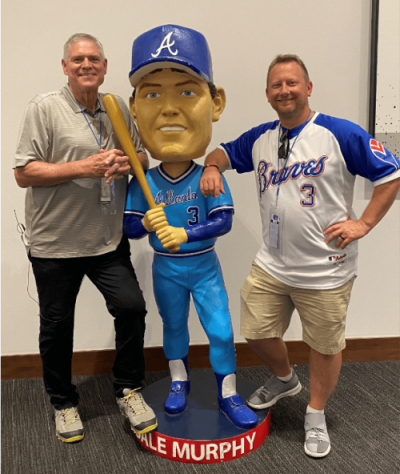 Earlier this year Garner saw a link on Twitter that highlighted an event called
"The MVP Experience" – an event that is hosted by Murphy.
"I went to his website and found the details and decided to toss aside the saying about never meeting your childhood hero, and I signed up," said Garner. "How it works, is that there are a handful of games a year where Dale Murphy meets with fans. You pick a game; you register and pay money and meet him for lunch at his restaurant (Murph's in downtown Atlanta). I was fortunate enough to get a game when the Los Angeles Dodgers were in town and spend the day with him.
Garner said the event is organized by Murphy's wife, Nancy. The Murphy's are the parents of eight children, seven sons and one daughter. Two of the sons chose football and have played in the NFL.
He said following lunch there is a Q & A where fans can ask the former Atlanta slugger and two-time National League MVP (1982 and 1983) any question.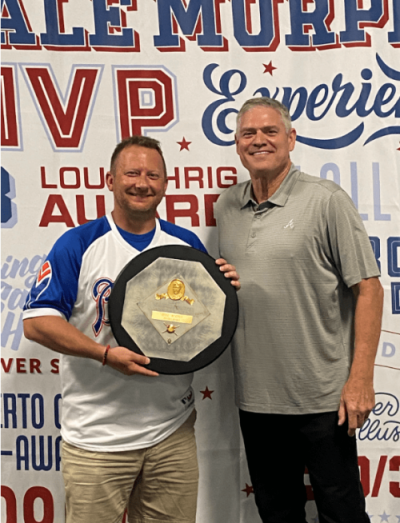 Garner called it a "surreal moment" when he walked in Murph's Restaurant and saw the largen wooden No. 3 prominently on display that used to hang in Turner Field.
"When you walk in and there's the wooden No. 3 I saw on television so many times and there's Dale Murphy to greet you, that's a moment that is burned in my mind for sure," said Garner. "All of us that were a part of it, there was 35, went to a dining area and Dale talked while we ate, just letting us know what the day was going to be like."
Garner said following lunch everybody moved to another area where there was a podium and the question-and-answer period got started.
"He stood at the podium for at least two hours answering questions about former players that he competed against, pitchers he faced and compared the era he played in to baseball in 2021. He really talked a little bit about a lot of different things," said Garner. "He brought his MVP awards and he signed anything we asked him to. He was just really a great guy and easy to talk with."
Murphy grew up in Oregon and was the No. 5 overall pick in the 1974 MLB draft, right out of high school. He signed with the Braves, turning down an offer to play college baseball at Arizona State. He made it to the big league in 1976 and played 14 years in Atlanta before being traded to Philadelphia where he spent three seasons. Murphy closed out his stellar 18-year MLB career in 1993 in Colorado.
Interestingly, one story that really caught Garner's attention during the question and answer session involved a game when Murphy played for Philadelphia and was matched again his old team, the Atlanta Braves. Murphy related that it was back in a different era with "old school managers." He said an Atlanta batter had been hit by a pitch and legendary Braves' manager Bobby Cox – the epitome of old school – instructed his pitcher (Tom Glavine) to hit the first batter he faced in the next inning.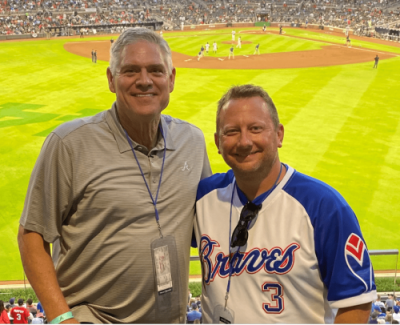 "When the next inning rolled around Glavine went to Cox and said, 'I can't hit the next guy up … it's Murph,'" Garner recalled Murphy telling the group.
Proving he really was old school to the max, Cox, who had managed Murphy for 14 years said: "I don't care who it is … hit him."
Garner said he found the incident on YouTube and said Glavine made a feeble attempt to hit Murphy with the pitch – a pitch that Murphy said he knew was coming.
"It took Glavine four pitches to finally hit him," Garner said. "And then he got kicked out of the game. It was a great story."
Garner admitted that he went into the Murphy meeting with some apprehension, knowing that he stood the chance of destroying, or at least damaging, the great memories of his boyhood idol.
"I can still recall seeing documentaries from years ago talking about just how great of a person Dale Murphy was, so I thought it would be OK, but you never know. I still remember that he played the game hard, he played it right and he was a great role model. Even as a kid it was great to know that hard work would pay off," said Garner. "So, I went into it believing that it would be a great experience. And to meet him and find out he was just the most likeable, down-to-earth guy you could ever want to meet. He was the same guy I watched on television as a kid and everything I hoped he would be. It was a day I will never forget!"