Nancy Elaine "Shorty" Tasky, age 78, of Benton; passed away at 4:30 a.m. Wednesday, June 16, 2021, at the Benton Healthcare and Rehab Center of Benton.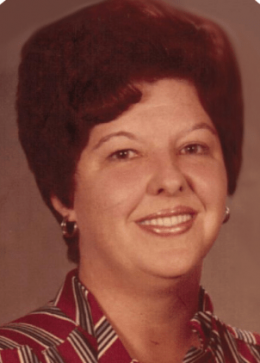 Her wishes were to be cremated.
A Memorial Mass will be held at 10:00 a.m. Saturday, July 24, 2021, at St. Joseph Catholic Church of Benton, with Father Urban Osuji officiating. Visitation will be from 9:00 a.m. to 10:00 a.m. Saturday, July 24, 2021, at the church.
Cremation services are through the Leffler Funeral Home of Benton.
Nancy was born on February 25, 1943, in Franklin County, Illinois; the daughter of Virgil Moore and Fern (Cashen) Moore. She married Bill E. Tasky on September 6, 1958; and he survives.
Mrs. Tasky was a former waitress having worked at Engert's Café, Circle Drive and the Holiday Inn. She also formerly worked as a beautician. Later she became an LPN and worked for almost 30 years as a nurse. She retired from the Marshall Browning Hospital in Du Quoin.
Shorty loved shopping, especially for shoes, watches, and purses. She collected Tiffany lamps; and loved to supervise Bill in their garden.
She was a member of St. Joseph Catholic Church of Benton.
Surviving is her ex-husband Bill Tasky of Benton; two daughters: Kim Mandrell and husband Mike of Benton, Christine Richardson of Benton; a son William David Tasky of Virginia; grandchildren: Heather Young and husband Keith of Benton, John Tasky and wife Heather of West Frankfort, Lacey Cooksey and husband Andrew of Thompsonville, Michael David Tasky of Virginia, Sabrina Tasky of Virginia, Damian Parker and wife Amanda of Murfreesboro, TN; great-grandchildren: Alex, Jace, Grayson, Dexter and Adylynne; a brother David Cummings of Benton; a half-sister Rebecca Robinson of Zeigler..
She was preceded in death by her parents; an infant daughter Terry Lynn Tasky; a son Bruce Allen Tasky; and a son-in-law D.T. Richardson.
Memorial contributions may be made in memory of Nancy Tasky, to the Franklin County Animal Shelter 13163 Oddfellow Lane, Benton, Illinois 62812.
To leave online condolences to the family, or to share memories of Shorty, visit www.lpfuneralhome.com