CARBONDALE, Ill. — Southern Illinois University Director of Athletics Liz Jarnigan announced on Thursday that Associate Director of Athletics for facilities and events Katie Gerlach has been designated as the department's senior woman administrator.
"I am extremely excited and grateful to step into this new expanded role as our SWA," Gerlach said. "Our student-athletes are some of the most outstanding young women and men that I have had the pleasure to be associated with and I feel privileged to work with them. Our entire athletic department works tirelessly towards a common goal of helping those student athletes be successful in the classroom, on the court or field, and to be happy fulfilled adults when they graduate and end their athletic careers and I am thrilled to do my part in helping them achieve this goal. I appreciate the support of the SIU Administration and the leadership of our athletic department, especially Liz Jarnigan and Jeff Jones, for providing me with this opportunity."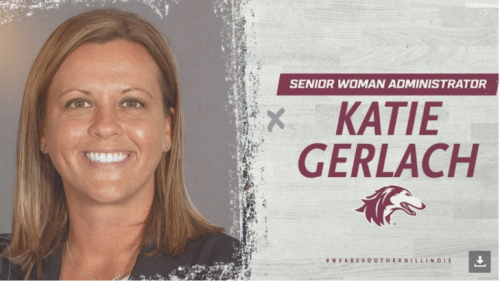 The senior woman administrator is involved in senior-level management decisions as the highest-ranking female in each NCAA athletics department or conference office. The purpose of the SWA, which was a mandatory role that the NCAA created in 1981, is to promote meaningful representation of women in the leadership and management of college sports.
A staff member who meets the definition of an SWA is eligible for benefits such as serving on NCAA committees, participating in eligibility hearings and receiving select grants, among others. As is the case at SIU, when an athletic director or commissioner is female, the school or conference may designate another woman as its SWA.
"As a native Southern Illinoisan and a passionate Saluki, Katie is a great fit for our athletic department," Director of Athletics Liz Jarnigan said. "Her work with facilities and events, diversity, equity and inclusion, and as a mentor for our student-athletes is outstanding. She has quickly become a respected member of the Missouri Valley Conference SWA group, as well as an important member of our department's senior leadership team. As a result, her perspective in overall departmental operations is invaluable."
A native of nearby Sparta, Illinois, Gerlach joined the Southern Illinois athletic department as the Associate Director of Athletics for facilities and events in August 2019. Prior to returning to the southern Illinois area, Gerlach spent four years at LSU, where she served as the coordinator of external events. At LSU, she coordinated all non-athletic competition events and facility rentals. She spent two years at Southern Miss prior to her stint at LSU.
A 2011 graduate of Southeast Missouri State, Gerlach was a graduate assistant in SIU's athletic department upon graduation and earned her master's degree from Southern Illinois in 2013.