Travis Wade Todd, 43, of Murphysboro, passed away on Monday, June 14, 2021, at the Memorial Hospital in Carbondale, IL.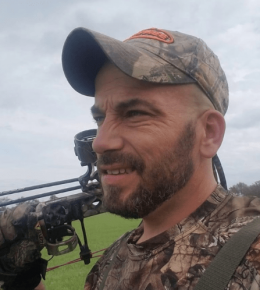 He was born on February 17, 1978, to Ralph and Donna (Essary) Todd in Benton, IL. Travis worked as a Relief Operator for Continental General Tire.
Travis was a member of Rescue Freewill Baptist Church, Whittington, IL. He loved spending time with family, hunting, fishing and outdoor activities. Travis enjoyed sharing his passion of the outdoors with his family and friends.
Travis is survived by his one daughter, Alysha Walker of Sesser; two sons, Hunter Wade Todd of Sesser and Ryker Vance Todd of Murphysboro; one brother, Brandon Wayne Todd of Benton; two grandchildren, Arbor Walker and Paxton Walker both of Sesser; former wife, Angel Marie Todd; and girlfriend, Brandie Jean Phillips-Perez.
He was preceded in death by his father, Ralph Dwayne Todd.
Services have been entrusted to Pate Funeral Home, 301 S. Main St., Benton, IL.
Visitation will be held on Saturday, June 19, 2021, from 12:00 p.m. to 2:00 p.m. at Pate Funeral Home, Benton, IL.
Funeral services will be held on Saturday, June 19, 2021, at 2:00 p.m. at Pate Funeral Home with Brother Bryant Harris, officiating.
Memorials may be made to Brandie Jean Phillips-Perez for Ryker Vance Todd, and will be accepted at the funeral home.
Online condolences can be given at www.patefh.com.