Wanda Dreon-Zinzilieta, 74, of Benton, IL passed away Friday, June 4, 2021 at 5:45 a.m. in the comfort of her home surrounded by her family.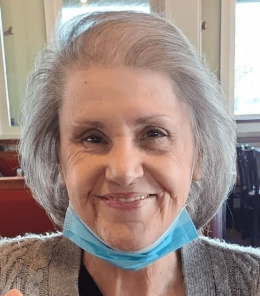 Mrs. Zinzilieta was born September 7, 1946 in Benton, Illinois. The daughter of Della and Mario Dreon. She married Dr. Joseph Zinzilieta in 1971.
Mrs. Zinzilieta worked along side her husband, Dr. Joseph Zinzilieta, of Zinzilieta Chiropractic for more than 40 years. She was a member of St. Joseph's Catholic Church in Benton. Wanda had great passion for life and lived to take care of others; including her two spoiled house dogs Lulu and Abbie. Wanda enjoyed reading, cooking, and traveling.
Mrs. Zinzilieta is survived by her children: Scott (Neva) Zinzilieta of Benton, Erin Zinzilieta-Pennington of Carmi, John (Shanon) Zinzilieta of Benton. Grandchildren include: David (Melissa) Zinzilieta of Great Falls, Montana, Bethany Zinzilieta of Benton, Ashley Zinzilieta of Benton, Nicholas Zinzilieta of Benton, Taylor (Andrew) Jones of Carmi. Great-Grandchildren include: Zeppelin and Cannon Jones of Carmi, Evalyn Zinzilieta of Benton, Isabelle Zinzilieta of Montana, Aurora Zinzilieta of Montana, Gracie Hakes of Indiana.
Mrs. Zinzilieta was preceded in death by her parents, sister-Sylvia Summers and husband Joseph Zinzilieta.
The family would like to recognize special caregivers: nieces Angela Summers-Nicholson, Gina Summers-Spiller and sister-in-law-Marie Monteggia and close friends David and Cathy Garavalia.
Per Mrs. Zinzilieta's wishes, no formal services will be held.
Donations in her memory can be made to the Benton Ministerial Alliance, 302 South Main Street, Benton, IL 62812.
For more information or to send online condolences please visit www.mortonjohnstonfuneralhome.com