Louie Kunas passed away on April 29, 2021. He was born May 12, 1931 in Coello, Illinois, delivered by a midwife at the local mining company. The youngest of eight children born to Polish immigrants George and Valeria, Louie grew up working on the family farm and enjoying rural small-town life.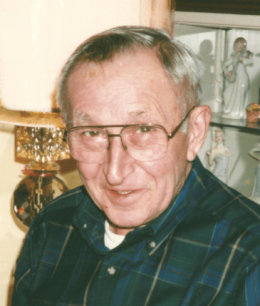 After graduating high school in 1950, he worked for Caterpillar in Peoria. He enlisted in the U.S. Navy during the Korean War, serving proudly as a ship's mechanic on the SS Helena from 1951-1955. After the war Louie attended college at Montana State then moved to Chicago along with several of his siblings. In the 1970s he began a long career working as a model maker in research and development for Motorola and contributed to the creation of the earliest cellular telephone and flip phone.
Louie was a deeply devoted father to his children Lyle, Diana, Amie, and Myra, and a surrogate father to his granddaughter Isis. He was proud to have completed an associate's degree from Elgin Community College. After retirement, he continued making machine parts from his home business in Hampshire. An avid reader, road-tripper, trap shooter and hunter, he loved traveling the country in the family RV and relished taking his kids on hunting and fishing trips to Wyoming, North Dakota, and Canada.
Louie is preceded in death by his parents (George and Valeria), siblings Stanley (Virginia), Carl (Helen), Julie (Bill Rose), Wanda (Ted Glowinski), Eleanor (Hillard Telinski), Henry, and Stephanie, infant son George Michael, and daughter Diana. He is survived by his son Lyle, daughters Amie Leucht and Myra Kunas, and his grandchildren Isis, Riley, Louie, Rudy, Selby, Evie, and Sammy.
Funeral services for Louie will be on Wednesday May 5, 2021 at the Gilbert Funeral Home in Christopher. Visitation will be on Wednesday from 10:00 AM until the time of the service at 12:00 PM. Burial will be at the Maple Hill Cemetery in Sesser.
For more information go to our website www.gilbertfuneralhomes.com