Jeong Ja Kim, 68, of Benton, passed away at 10:39 a.m. on Sunday, April 4, 2021 due to pancreatic cancer. She was in the care of her son, Andrew, at his home in Troy, IL surrounded by her loving family.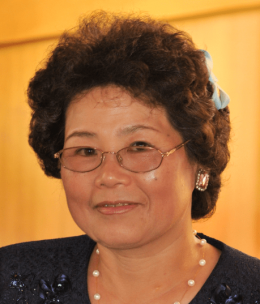 She was born on January 7, 1953, to Byungtae and Okrae (Seo) Jung in Gurye County Jeollanam-do, South Korea. On May 8, 1974, Jeong Ja married Hong Won Kim and he survives.
For over 37 years, Hong Won and Jeong Ja owned and operated Kim's Shoe Repair and Alterations in Benton, IL. With the failing health of her husband and her recent passing, this long-standing business within the community will no longer be in service. Jeong Ja Kim wished to extend her sincerest gratitude to the people of Benton where she lived more than half her lifetime. She made a vaunted journey halfway around the world, leaving her family and friends for the search of a new life and the American dream. In this journey she found a new home, a community that she loved, and the place she wished to be memorialized forever, "Benton".
Jeong Ja was a loving wife, mother, grandmother, daughter, and sister. She was a woman of unwavering faith and steward of light for her almighty lord in heaven.
Jeong Ja is survived by her loving spouse of 46 years, Hong Won Kim; mother, Okrae Jung of South Korea; three sons, Yeong (Barbara) Kim of Rock Hill, SC, Matthew (Michelle) Kim of Bullhead City, AZ and Andrew (Erica) Kim of Troy, IL; six grandchildren, Brandon Kim, Mackenzie Kim, Leah Kim, Aubrey Kim, Owen Kim and Ashley Lewis; and one brother, Gapdoo Jung, and five sisters, Bok Jung, Aeja Jung, Danam Han, Onam Jung and Hyunsook Jung.
She was preceded in death by her father, Byungtae Jung and one brother, Gapjoo Jung.
Services have been entrusted to Pate Funeral Home, 301 South Main St., Benton, IL.
Public visitation will be held on Friday, April 9, 2021, from 5:00 p.m. to 8:00 p.m. at Pate Funeral Home, Benton, IL.
Private funeral services will be held on Saturday, April 10, 2021, at 10:30 a.m. at the Pate Funeral Home, Benton, IL, with officiant, Jeong Ho Han, translator, Hyun Wook Han, and Pastor Jim Endsley, officiating.
Following the funeral service, private burial will take place in the Masonic and Odd Fellows Cemetery.
Memorials may be made to the Benton Ministerial Alliance and will be accepted at the funeral home.
Online condolences can be given at www.patefh.com.