Randall Wayne Mohr, age 64 of West City; passed away at 6:55 a.m. Saturday, April 3, 2021, at his home.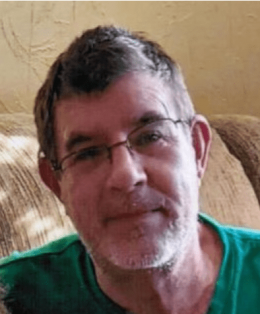 Please be considerate of others, masks are required; and social distancing is to be observed. If you are sick, stay at home.
Randall was born on November 1, 1956 in DuQuoin, Illinois; the son of Elmer Theodore Mohr and Joann Ruth (Schafer) Mohr. He married the former Karla Jane Grizzell on October 21, 2001, and she survives.
Randall worked as a service technician with Terminix for the past 36 years.
He enjoyed the outdoors, yardwork, fishing, John Wayne westerns, and he loved watching NASCAR. His favorite NASCAR drivers were the late Dale Earnhardt and Dale Earnhardt, Jr.
Randall was of the Catholic faith.
Surviving is his wife Karla Mohr of West City, IL; children: Caron Sullens and husband Andy of Anna, IL, Michael Wilkerson of Benton, IL, Lori Gulley of Benton, IL, Tyler Knowles and Morgan Knowles both of West City, IL; grandchildren: Drake Lebrun of Benton, IL, Aries and Zander Sullens of Anna, IL, Jacob Wilkerson of Benton, IL, Corey Wilkerson of Florida; a brother Karl Mohr of Energy, IL; a sister Lisa Mohr of DuQuoin, IL; a niece Shelly Tullis and husband Patrick of Lexington, KY.
Due to unforeseen circumstances, the services for Randall Mohr have been postponed until further notice
Thank you for your understanding. Leffler Funeral Home is in charge of the arrangements
He is also survived by his three four-legged family members, Lucky, Bella, and Sophia.
He was preceded in death by his parents; and a great-nephew Elliot Tullis.
Memorial contributions may be made to the American Heart Association and will be accepted at the Leffler Funeral Home.
To leave online condolences to the family, or share memories of Randall, visit www.lpfuneralhome.com