Betty Toms, 81, of Benton, passed away at 9:58 p.m., on Thursday, March 18, 2021, at her home.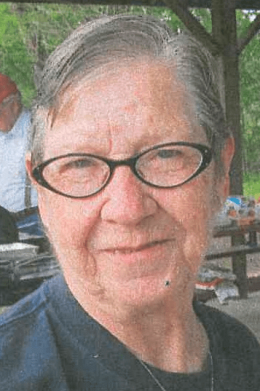 She was born on November 13, 1939, to Glen and Berdena (Brewer) Walden in Coles County, IL. She married Edward Toms and he preceded her in death on March 6, 1986.
She was a member of the West City Church of God. Betty enjoyed visiting with family and friends and shopping. She loved her pet dog, Cookie.
Betty is survived by her two sisters, Janet (Walter) Trapper and Linda (James) Beall, all of Benton and eight special nieces and nephews, Michele Doris, Steve (Diana) Trapper, Larry (Melissa) Walden, Jr., Dianna Washburn, Ralph Washburn, Gary (Kaye) Washburn, Bruce (Becky) Washburn and Terry (Amy) Foster.
She was preceded in death by her parents, Glen and Berdena Walden, husband, Edward Toms, three brothers, Wayne Walden, Larry Walden Sr.and Ronnie Walden; one sister, Mary Washburn and one nephew, Scott Walden.
Services have been entrusted to Pate Funeral Home, 301 S. Main St., Benton, IL.
Graveside services will be held on Monday, March 22, 2021, at 1:00 p.m. at the Masonic and Odd Fellows Cemetery, Benton, IL, with Steve Flach, officiating.
Memorials may be made to Hospice of Southern Illinois and will be accepted at the funeral home.
Online condolences can be given at www.patefh.com.