Leida Ellen (Bates) Downen, 98, of Sesser, passed away on Friday February 19, 2021 at Helia Healthcare in Benton, IL.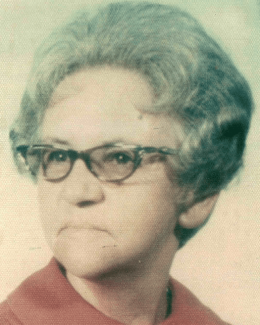 She was born on July 19, 1922 to Edmond and Sybil (Harrison) Bates.
She is survived by her three sons Jimmy (Glenda) Downen of Ina, Ernie (Vicki) Downen of Scheller and Steve Downen of Sesser; one daughter Susie Miller of Sesser; 9 grandchildren; 13 great grandchildren and 1 great great grandson.
She was preceded in death by her parents, one son Freddie Downen, one daughter Patsy Eubanks, grandson Kent Eubanks, brothers Harry, Elmer, Dale and Howard Bates. Sisters Arcada Prior, Edna Hamilton, Juanita Dilliner and Mary Lou Hoofer.
She was a member of the Oak Grove Baptist Church, where she taught Sunday school for many years. She retired from the dietary department of the Franklin Hospital.
Graveside services will be on Wednesday February 24, 2021 at 1:00 PM at the Maple Hill Cemetery in Sesser with Brother Mark Wells officiating.
In lieu of flowers donations can be made to Hospice of Southern Illinois. Envelopes will be available at the cemetery.
For more information go to our website www.gilbertfuneralhomes.com