Paul "Fearless" Fowler, 85, of Christopher, passed away on January 9, 2021 at the Herrin Hospital.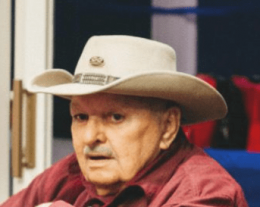 He was born on December 29, 1935 in Johnston City, IL to Gordon and Arline (Moore) Fowler. He married Marianne (Bugaieski) Fowler on July 2, 1977 and she survives of Christopher.
He is also survived by his children Paul (Artie) Fowler Jr. of Kirksville, MO, Brenda (David) Thomas of Michigan City, IN, Teresa (Terri) Morton of Bailey, CO, Tracy (Robert) Hegwood of Ft Charlotte, FL, Linda Stewart of Marion, IL, R. Joseph Ingoldsby of Christopher and Scott Ingoldsby of Christopher; one special niece Amber Reed Malone; one special granddaughter Kimberly Ingoldsby; several grandchildren and great grandchildren; two sisters Brenda (John) Marlin of Mickelton, NJ and Carol (Poke) Reed of Johnston City, IL and his little dog Rosie.
He was preceded in death by his mother, father, step-father Elmer Timmons, one daughter Paula Hart.
Paul was a coal miner and was the owner of Fearless' in Christopher for many years. He enjoyed playing his guitar, singing, camping, fishing and entertaining his family and friends. He also had many sayings that everything had to be done "Immediately" and "forget about them skinny mules just load the wagon".
He attended Valier Second Baptist Church.
His wishes were to be cremated. The family is planning a Celebration of Life for Fearless later this summer.
For more information go to our website www.gilbertfuneralhomes.com