(Editor's Note: Legendary basketball coach Rich Herrin passed away December 25, 2020 at his home in Carterville. In 2007, a few months after I launched Southern Illinois Sports Connection Magazine, I sat down at a small table in a Benton restaurant with a tape recorder between us to talk with Coach Herrin about his illustrious career. The story is missing his final coaching stint at Morthland College, but takes an in-depth look at the coach and the man that left an indelible mark on Southern Illinois basketball. My condolences to wife Sue and the Herrin family. — Jim Muir)
The legendary coach talks about his coaching career that has spanned parts of six decades
By Jim Muir
On October 28 the Marion High School board accepted the resignation of Rich Herrin as its basketball coach. The next morning a newspaper headline blared: "Herrin's resignation marks end of an era."
Don't bet on it.
The legendary coach recently granted an interview to SISC where he detailed his lengthy career that spans parts of six different decades. One thing that Herrin clarified quite clearly at the beginning of the conversation is that his coaching epitaph should not be written just yet.
"I'm not saying I'm through coaching because if the right situation opened up I'd consider it, I'd consider it seriously," said the 74-year-old Herrin. "The thing is I still feel great, I have lots of energy but more than anything else I just love to coach. It's all I know to do."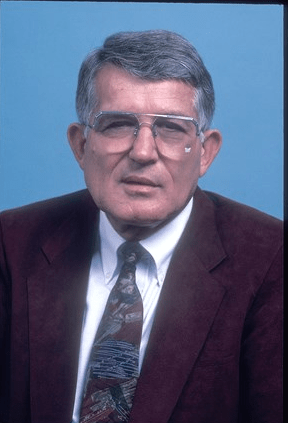 And Herrin has done it well, ringing up a record of 902-367 (.710) during a coaching career that began in 1956. Herrin currently ranks second on the all-time win list behind Dolph Stanley who has 942 victories.
It would be virtually impossible to detail Herrin's storied career and mention every one of the never-ending list of accolades and awards he's received. But, Herrin is quick to point out that his long coaching journey has not been a one-man show and emphasizes that there were people at ever juncture of his life that deserve credit for his many accomplishments.
The first is his father, the Rev. Homer Herrin, a Methodist minister and an outstanding athlete in his own right. Herrin says the competitive drive that has been a trademark throughout his career as a player and coach was instilled at an early age by his father. Herrin also says that if he could point to one person responsible for him choosing a career in coaching it would be his father.
"He always set a great example in everything he did," said Herrin. "He was never one to try and teach us the skills of the game and it still stands out to me that he never once questioned a coach or an official."
What his father did often say to his two sons (Rich and Ron) still stands out in Herrin's mind today.
"After every game he would tell us that we could've played harder," said Herrin. "He'd say things like 'you could have gotten to that loose ball if you'd have dove for it.' He expected us to work at it and he expected us to play hard. My dad wasn't what I would call tough on us but when he told you to do something he expected you to do it, there wasn't any second chances."
Being the son of a minister the Herrin brothers moved several times during their growing-up years. Herrin was born on April 6, 1933 while the family was living in West Liberty. In succession the Herrin family lived in West Liberty (1933-34), Dieterich (1936-38), St. Francisville (1938-41), Cisne (1941-46) and Bridgeport (1946-52).
Herrin points to the move to Bridgeport, at the beginning of eighth grade year, as one of the defining moments in his life. It was at Bridgeport that Herrin first met Frank "Doc" Hunsaker, a high school coach that Herrin says was "way ahead of his time." Herrin also noted that at that time Bridgeport had the best gym in Southern Illinois.
"Coach Hunsaker was tough, he was a disciplinarian," said Herrin. "He was very demanding and if you made a mistake you would probably find yourself sitting next to him on the bench. Many of the philosophies I have as a coach I learned from Coach Hunsaker. Even some of the plays we use today are ones I learned from him. I also learned from Coach Hunsaker that the best way to have success is to outwork other people."
Herrin also gives much credit to his older brother Ron, who passed away in 1998. Ron Herrin coached at Freeburg, Olney (where the gymnasium is named after him) at Benton and also joined Rich as an assistant at Southern Illinois University.
"Ron always gave me a chance to play with the older kids instead of sending me home, so he gave me a chance to be successful," said Herrin. "He was good to me and a lot of the knowledge I have about basketball came from Ron."
After a stellar athletic career at Bridgeport High School where he garnered all conference honors in both basketball and football Herrin went to McKendree where he played basketball for Jim Collie.
"Coach Collie's philosophy was to make the game exciting and to give players freedom to play," said Herrin. His philosophy was to win games but to make the game fun while you're trying to win."
Herrin said the coaching philosophies he learned under Hunsaker and Collie have been employed at every stop in his coaching career.
While at McKendree Herrin scored more than 1,500 points and pulled down more than 1,000 rebounds during his three-year career. He missed his junior season because of injuries sustained in an automobile accident. Herrin still holds the single game scoring mark of 47 – a record that has stood for more than 50 years.
The first stop that Herrin made to try out his own coaching philosophy and skills was at tiny Okawville where he compiled an impressive 95-17 record in four years.
At Okawville Herrin coached twin-tower brothers Dave (6'-7") and Stan (6'-5") Luechtefeld who both received all-state honors. Herbert Dingwerth, who later went on to coach the Okawville Junior High program for many years, was the starting guard on Herrin's first team. All three were underclassmen when Herrin arrived.
"My senior year of college I worked refereeing high school basketball and I called some of the Okawville games so I knew when I took the job that I had some talent," Herrin said.
Herrin recalled a story where the Luechtefeld's dad, Sid, came to talk to him shortly after he was hired and said his sons would not be able to play basketball because they had to do daily chores at the family's dairy farm.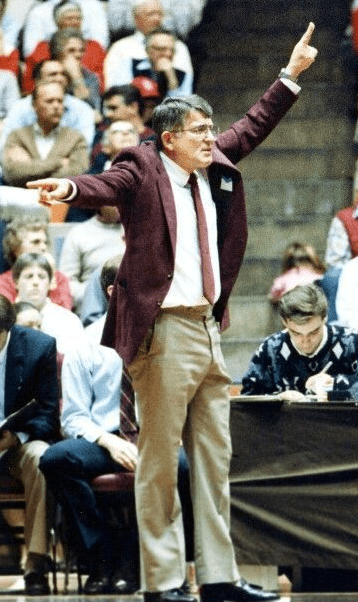 "Sid had tuberculosis and in those days you went to a sanitarium for treatment," Herrin said. "He told me that Dave and Stan had to do the milking and other chores. So, we worked out an arrangement where we practiced about an hour after school and then they went home. And on the nights we had games they wouldn't get there until after the junior varsity game had already started."
Herrin was 23 when he took the Okawville job and said he recalls learning a valuable lesson during his first year of coaching.
"That first year I said that I would treat everybody the same but I realized quickly that you can't do that because they are all individuals," said Herrin. "You treat everybody as an individual, treat them fair and evaluate them. Some kids you can get on to and they'll respond and others you have to back up a little because you can't drive them. I learned that lesson my first year, I learned it real quick."
From Okawville Herrin made the move to Benton in 1960 and admits that he expected to stay at the Franklin County school a short time and then move on to a larger high school or college level coaching position.
Herrin recalled a humorous story about his arrival in Benton, specifically comments made by longtime local physician Dr. William Swinney. Rich and his wife Sue arrived in Benton with a mobile home, something that did not go unnoticed by Dr. Swinney, who was known not only as an excellent doctor but also for a keen and sometimes wicked sense of humor. Benton had not had much success in basketball meaning that the coaching carousel turned quite frequently.
"I remember the first time I talked to Dr. Swinney he told me that he didn't know what kind of coach I'd be but that I was without question the smartest coach that had been hired," said Herrin. "When I asked him why, he said because I was the first basketball coach to come to town with a house on wheels. I really didn't think I'd be in Benton that long; I thought I'd move on to a bigger school."
But a stepping stone and a house on wheels would not be two things in the future for Herrin who spent 25 years at Benton where he compiled an overall record of 521-192.
Perhaps as a prelude of things to come Herrin took his first ever Benton team to the Elite Eight in Champaign and then followed with a return trip to Assembly Hall during the 1965-66 season when the Rangers compiled a record of 31-1. In fact it was during the 1965-66 and 1966-67 season that Herrin and the Rangers literally put Benton on the basketball map.
"The only way I can describe the years at Benton is to say that it was just a very special time in my life," said Herrin.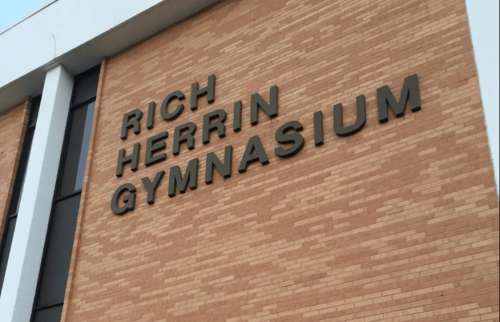 During that quarter century Herrin-coached teams would win 52 team championships, 21 regional titles, eight times to the Sweet 16, six times to the Elite Eight, 11 South Seven championships and six championship titles at the prestigious Centralia Holiday Tournament (in seven attempts). Additionally, Herrin coached two high school All-Americans (Rich Yunkus 1967 and Billy Smith 1975), 13 all-state players and had more than 65 players from Benton go on to play college basketball and had more than 20 former players go on to become coaches.
Herrin would not name his top five or even 10 players during his high school coaching days but did say that Rich Yunkus as a high school player and Doug Collins overall are at the top of his list. He listed Billy Smith and Danny Johnson as the best athletes he coached in high school and Keith Tabor as the best pure shooter.
Proving that all good things come to an end in 1985 Herrin took on the monumental challenge of rebuilding the rock-bottom SIU program. Herrin credits Dean Stuck, athletic director at SIU at the time of his hiring, with making the decision to hire him.
"He made the decision, there was a 10-man committee, but the decision was his," said Herrin. "I probably didn't have a majority of the votes."
Herrin said he tackled the SIU job with no clear-cut agenda but with a gritty determination to turn the program around.
"It was a tough job and a difficult challenge but I've never been one to shy away from a challenge," Herrin said. "I went after the job maybe as much as anything to see if I could get it and then after I got it I wasn't sure it was the thing to do."
Herrin said that unsure feeling about SIU increased dramatically during his coaching debut at the SIU Arena when the Salukis opened the season against Chicago State.
"We were down by 20 in the first half and I remember looking at the scoreboard and thinking, 'I don't know how I got in this mess … but I'm sure going to get out of it tomorrow morning.' We came back and won the game on a last second shot but it was still a long season. Looking back it's the best move I ever made but in the beginning I wasn't sure."
The Salukis would go 8-20 during Herrin's inaugural season and then improve to 12-17 and 12-16 the next two years before running off six out of seven seasons with 20-plus wins. In all Herrin compiled a record of 225-174 during 15 seasons at SIU with 68 of those losses coming during his first four years.
"We won eight games that first year and won more than a few we shouldn't have won," Herrin said. "If we hadn't came back and won that first game I'm not sure what would have happened."
Herrin said beating Wichita State on the road that first year still remains one of the highlights of his long career. The Salukis trailed by 11 with less than two minutes to go in the game and scored on six straight possessions while Wichita missed five consecutive free throws.
"That still has to be one of the greatest comebacks in college history," Herrin said.
Herrin mentions that victory over Wichita State and three consecutive Missouri Valley Conference tournament championships as the highlights of his career at SIU.
Even though Herrin left after back-to-back losing seasons he says he has good memories of his 15-year stay at the Carbondale campus and has enjoyed the success of the program under Bruce Weber, Matt Painter and his former player and current Saluki coach Chris Lowery.
Finally, when pointing to people that has had an impact on his life Herrin points to his wife of nearly 50 years, Sue. The Herrins will celebrate their golden wedding anniversary on Dec. 21st this year.
"I've got to give Sue all the credit in the world," Herrin said. "She's let me do what I want to do as far as coaching is concerned. Any success I've had, Sue is a big part of that."
Ironically, when asked what he would like his legacy to be Herrin never mentioned basketball.
"I'd like to be remembered as somebody who helped make young men become better people and helped them to be successful in life," Herrin said.
To date Herrin has coached a total of 1,269 games in his career and says he's enjoyed every single minute, particularly the 902 victories. Despite all those games, players and different eras Herrin still has an uncanny ability to remember scores, dates and details of games from 30 and 40 years ago.
"When it's all said and done I've been the luckiest guy in the world," Herrin said. "I've had great jobs, with great talent and I've made adequate money but most important I've got to do what I love to do – coach basketball."