By Jim Muir
The upcoming holiday season and an unseasonably warm and sunny December week has done nothing to lessen the sadness and grief gripping the small, tight-knit communities of Sesser and Valier as friends and students try to come to grips with the tragic death of 14-year-old Luke Thery.
Thery, a popular freshman at Sesser-Valier High School, died Wednesday afternoon from injuries sustained in a truck-four-wheeler crash at the intersection of East Center Road and Peach Orchard Road, located south of Sesser.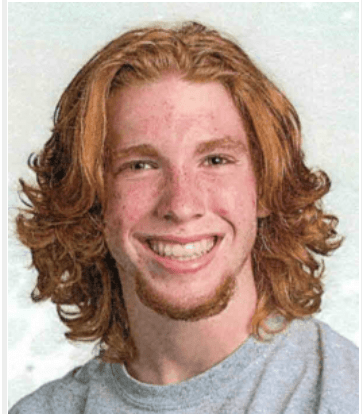 Thery was traveling south on East Center Road and struck a pickup truck that was traveling east on Peach Orchard Road. Thery was pronounced dead at the scene.
Jerry Travelstead, a Sesser native and S-V graduate who now serves as superintendent at Pinckneyville No. 204 Grade School, is youth leader at Valier First Baptist Church where Thery attended.
Travelstead said he has known Thery all his life – literally.
"I really can say that I've known him all his life, because I remember when he was born," said Travelstead. "Luke came from a great family and his parents are outstanding people."
Travelstead said Thery was a three-sport athlete, playing football, baseball and running track at S-V. He added that Thery "had never met a stranger" and was "friends with everybody."
"He was a red-head and I always thought that his red hair matched his outgoing personality," said Travelstead. "He had this great big personality and he liked to share it with people. Luke liked to talk and he talked to everybody. He was just a fun kid to be around, he loved riding four-wheelers, he liked to act goofy and have fun and he was 100 percent all-boy. Luke was just a joy to be around and he was certainly a leader and not a follower. This is a real tragedy for the community and the S-V school."
S-V District Superintendent Jason Henry issued a statement Friday morning concerning the impact on the school.
"We are hurting," said Henry. "Luke was a fantastic young man. He was high-spirited, energetic, and a fierce competitor with a relentless work ethic. Underneath his mental toughness was a caring, gentle soul. Our thoughts and prayers are with the Thery family at this time."
Henry said Thery's death is doubly-hard for school personnel, as his mother, Jennifer, is a veteran math teacher in the District.
"Our students and staff have been shaken, but we're strong," said Henry. "We realize that, although we don't understand why these things happen, we must stay positive and focus on supporting and encouraging Luke's family. We're trusting that this untimely accident will somehow strengthen our school, families, and community for years to come. That's what Luke's family would want us to do, and we're going to honor that to the best of our ability."
Henry said the school will have extra counseling personnel available for students and staff members as needed through its partnerships with Franklin-Jefferson Special Education District, the Sesser-Valier Ministerial Alliance, and Centerstone.
Sesser Mayor Jason Ashmore called the fatal accident "just a terrible tragedy." Ashmore said much of the community revolves around what happens with students and school activities, noting the impact and sadness that Thery's death has had on the entire community.
"Certainly, it impacts the S-V students and the school family, but it also has a big impact on the community as a whole," Ashmore said. "Luke was friendly and outgoing and well-loved by everyone. At a time like this I want to encourage everyone to lift up this family in prayer during their time of need. I am proud to be a part of a community that comes together to help, like the residents of Sesser and Valier always do."
The Rev. Kevin Bradley is pastor of the Valier First Baptist Church, where Thery has attended since he was born.
"Luke was just a fine young man and he didn't just attend church, he was active in the church," said Rev. Bradley. "I will always remember how much he loved our youth group and our annual Christmas pageant."
Rev. Bradley said his main focus will be to encourage those grieving to not focus on "why this accident happened."
"There are no words that we can say that will ease the pain of this family, but we just have to hold them up in prayer," Rev. Bradley said. "We know that Luke is with the Lord and we have to hang on to the promises that the Bible gives us that our hope is in Jesus Christ."
Travelstead said Thery and his son, Landon, were good friends, adding another layer of grief to the situation for him. Travelstead recalled another December death nearly 26 years ago involving a Sesser teenager that will forever be seared in his memory. Travelstead was best friends and neighbors with Brandon Dame, who was critically injured in a two-car crash south of Sesser on December 27, 1994. The 16-year-old Dame died the following day at a Cape Girardeau hospital.
"I am not a trained pastor or a grief counselor, but the best words I can offer to the hundreds of young people that are hurting right now comes from personal experience," said Travelstead. "I lost my best friend, Brandon, in a car wreck when I was 15 years old, and I can tell these young people that they are never going to get over this completely. It will affect them the rest of their lives. I know that firsthand."
Travelstead was choked with emotion when talking about the way he will approach Thery's death with young people.
"My advice will be to make your life count and do things and accomplish things that would make Luke proud," said Travelstead. "If there is a lesson to be learned in this, it's to tell your family and friends how important they are to you. Why wait … before it's too late. I learned that lesson the hard way at age 15, and I decided right then I wasn't going to waste any opportunity to tell people I love and appreciate them. I will miss Luke dearly and so will hundreds of his friends and family."
Graveside services for Luke will be on Sunday December 13, 2020 at 2 p.m. at the Union Primative Baptist Cemetery located north of Sesser by the old Inland Steel Mine with Brother Kevin Bradley officiating. Visitation will be on Saturday from 4 p.m. until 8 p.m. at the Brayfield-Gilbert Funeral Home in Sesser and on Sunday from 9 a.m. until 1:45 p.m. at the funeral home.