Mr. Rolland Wayne Dunivan, age 91, of Benton; passed away at 5:30 p.m. Friday, November 13, 2020 at the SSM Healthcare Good Samaritan Hospital of Mt. Vernon.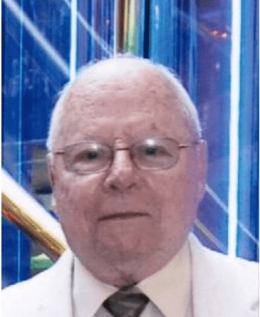 A Celebration of Life Service will be held at a future date.
Rolland was born on April 25, 1929 in Akron, OH; the son of Otis L. Dunivan and Bessie (Marshall) Dunivan. He married the former Nadine Elimon on April 4, 1953 and she survives.
Rolland was a U.S. Army Veteran of the Korean War where he obtained the rank of Corporal. He was a member of the American Legion Post # 1194 of Thompsonville, IL.
Mr. Dunivan was a retired inspector with Ford Motor Company of Chicago. He was Past President and Kiwanian of the Year with the Benton Kiwanis Club in the year 1997-1998. He was also an Ordained Deacon; and he was a member of the Immanuel Baptist Church.
He enjoyed helping other people, fishing, word search puzzles, collecting shells and making art with the shells. But most of all, he enjoyed spending time with his family.
Mr. Dunivan is survived by his loving wife of 67 years Nadine Dunivan of Benton; two daughters: Cynthia Ann Walls and husband Larry of Maryville, TN, Beth Ann Bergh of Hickory Hills, IL; three grandchildren: Shannon Walls of Maryville, TN, Lori Walls Colbert and husband C.J. of Maryville, IN, Jeremy Shaul and fiancee' Brianna Gregoire of Kankakee, IL; six great-grandchildren: Ray Ann Shaul, Ry Leigh Shaul, Mason Shaul, Preston Shaul, Bennett Shaul, Abigail Gregoire; siblings including: Jack Dunivan of Colorado, Rolland's twin brother Russell Dunivan of Michigan, Eleanor Booher of Arizona, Jimmy Dunivan of Arizona; sister-in-law and brother-in-law Verdine and Ed Miller of Marion, sister-in-law Jean Elimon of Glen Carbon, IL; and several nieces and nephews.
He was preceded in death by his parents; two brothers: Robert Dunivan and Ernie Dunivan; a sister Myrna Chiles; a son-in-law: Bruce Bergh; two brother-in-laws: Jim and Clyde Elimon.
In Lieu of flowers, Memorial contributions may be made In Memory of Rolland Dunivan to the family or to the Immanuel Baptist Church of Benton.
To leave online condolences to the family, or to share memories of Rolland; visit www.lpfuneralhome.com
Arrangements are through the Leffler Funeral Home of Benton.