This is not your ordinary obituary, but Mom was not your ordinary lady either. Let's get through the basics first.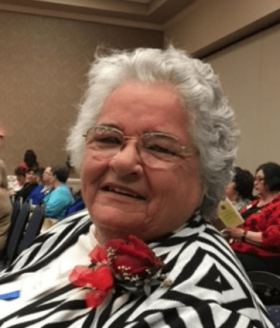 She was born Kathryn Gladys Dean, May 20, 1945 in Urbana IL, to Charles Anderson Dean and Gladys Agnes (Hauersperger) Dean, and she passed October 3, 2020 in Herrin IL.
She was preceded in death by sisters Mary Francis (Don) Myrick, Lois Martha Cady, and Nola Mae Dean. She has one surviving sister, Patricia Charlene (Jack) Bryan. She was also preceded in death by brothers Charles Smith Dean, Kenneth Jerome (Sharon) Dean, and Thomas Earl (Jean) Dean. Daughter Gladys Elizabeth "Liz" (Jimmy) Greenwood-Allen survives (that's me). She also had many beloved nieces, nephews, and cousins.
She obtained Bachelor's degrees from Eastern Illinois University, and Master's degrees from Southern Illinois University. She spent most of her career as an educator and media specialist at Christopher Community High School, where she touched the lives of countless students and colleagues.
Now for the more interesting stuff. Mom had the following quote on a wall in her office: "Life should not be a journey to the grave with the intention of arriving safely in a pretty and well preserved body, but rather to skid in broadside in a cloud of smoke, thoroughly used up, totally worn out, with a bottle of wine in one hand and a bar of chocolate in the other, and loudly proclaiming "Wow! What a Ride!" The first time I saw that, I thought it seemed strange. But now I can see that it is so fitting.
She certainly lived her life, the "dash" if you will, well. She travelled frequently, often on her own motorcycle. She was still riding just a few years ago. For several years she was the Executive Director of Women on Wheels, and helped to save that organization when it was struggling. Under her direction and with the help of many of her dear WOW friends, it became an international group of women motorcyclists and motorcycle enthusiasts. Over the years she traded two wheels for three, then eventually for four. She customized her Jeep to be a tribute to the armed forces, and she was very proud of it. She would often speak of the compliments she received and the interesting folks with whom she had spoken. (She never met a single stranger.) She was always a genealogist, and in her later years she became very active in (and held several offices with) multiple lineage societies, including the Jamestowne Society, the National Society Daughters of the American Revolution, the United Daughters of the Confederacy, and the National Society Daughters of the Union. History, genealogy, and family were all very important to her.
In the past few days, many people have reached out to me with their thoughts, prayers, and memories. Mom has been described as formidable, wise, level-headed, dedicated, diligent, a mentor, caring, generous and kind. She was all of those things and more. She was the single hardest-working woman I have ever known. She was quick to lend a helping hand and quick with a smile, and when she decided something needed to get done or that she was going to do something, look out. Whatever she had set her mind to was going to happen. I never saw her presented with a single problem for which she couldn't offer a solution. She chose to focus on the positive in life, and to improve the lives of others. She didn't complain and she was never cross, and if someone was mistakenly brave enough to cross her, she would respond with a smile and the wisdom of an "old soul," quickly correcting the error of their thinking. The world has been a better place due to her presence. To say she will be sorely missed is an understatement. But instead of being sad, she would want us all to remember and emulate her legacy, look back on her fondly, and smile.
Visitation services will be at Gilbert Funeral Home in Christopher, October 7, 2020 from 5:00 – 7:00. Graveside services will be held Thursday, October 8, 2020 at 11:00 at the Mulkeytown Cemetery.