Lola Mae Kirkpatrick (nee Dillion) of Benton, IL, passed away August 31, 2020 at the age of 93 with family by her side.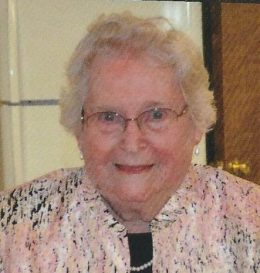 She was born March 20, 1927, in Benton, a daughter of the late Leonard and Clara (Mandrell) Dillon. She graduated from Benton High School in 1945. Lola married Edward (Bud) Kirkpatrick in 1948 and they lived on the family farm in Sesser for 48 years.
Lola is survived by seven children Jeanetta Kirkpatrick (Patrick Fargen) of Viola, WI, Cathy Overturf of Valier, Bill (Joyce) Kirkpatrick of Du Quoin, Jack (Terri) Kirkpatrick of Sesser, Joe (Alice) Kirkpatrick of Minonk, IL, Roy (Debbie) Kirkpatrick of Christopher and Joy Kirkpatrick (Matt Erdman) of Spring Green, WI.
She is further survived by eight grandchildren: Edie Overturf (Peter Harris) of Portland, OR, Terez (Jason) Taylor of Christopher, Jason (Caitlin) Kirkpatrick of Coulterville, Zachary (Tiffany) Kirkpatrick of Morton, IL, Andy Kirkpatrick of Du Quoin, Grant (Catie) Kirkpatrick of Cameron, NC, Logan and Haley Kirkpatrick of Christopher. She is survived by seven great-grandchildren. She also leaves many other family members and friends who will sadly miss her.
Lola was predeceased by her husband in 1995, her parents and nine brothers and sisters. She lived for the past nine years receiving wonderful care at the Heritage Woods assisted living facility in Benton where the staff called her Miss Lola and she grew to feel "the girls" were her extended family. Lola was strong in her faith and her spiritual home and family are the First Baptist Church in Sesser.
Lola worked as a movie theater usher and secretary for a roofing company before marriage. During her marriage she devoted her energy to raising their children and working on the farm. She was a long-time member of the Extension Homemakers Association. After the death of her husband she worked at Little People's Daycare and later as a secretary at the Illinois Department of Rehabilitation office in Benton, where she was recognized for her performance on the job. She received the Franklin County Farm Bureau's Farm Woman of the Year award in 1988. One of her fondest memories of working was in 1960 when she took a temporary position as a census taker. She drove around the county knocking on doors to make sure everyone was counted. Lola loved to read and instilled this in her children. Just a few months before her passing she was reading three books a week. Nothing made her happier than to have all her children and their families in a room together. She couldn't hear anything in the din, but she was happy.
Visitation will be at the Brayfield–Gilbert Funeral Home, 102 W. Callie St., Sesser, Illinois on Saturday, September 5, 2020 from 5:30 – 8:00 pm. Graveside services will be at the Horse Prairie Cemetery at 1:30 pm on Sunday, September 6, 2020. The family asks that masks be worn during the visitation and proper physical distancing be practiced at the cemetery. In lieu of flowers donations can be made in Lola's name to the Sesser-Valier Ministerial Alliance, P O Box 915, Sesser, IL 62884. Envelopes will be available at the funeral home.
For more information go to our website www.gilbertfuneralhomes.com