Mary Lou Murry Dauksch was born on January 26, 1927, to Xelpho and Gertie (Gilliam) Murry of Perry County, Illinois. She graduated from Sesser High School in 1944 and married Lowell ("Apple") Dauksch on March 23, 1946. She was a faithful and active member of the Sesser Church of Christ, and few visitors left the building without an invitation to Sunday dinner at her table. Mary Lou was known in the community for her skill with a needle, both in the furniture upholstery shop she ran from her home and in the many quilts, clothes, curtains, teddy bears, artificial flowers, and countless other craft projects she made and often gave away.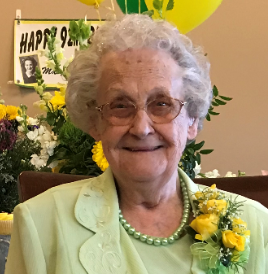 Mary Lou taught school for only a few years in her young adulthood, but she remained a teacher at heart all of her life. She was a well-loved Sunday school and day school teacher at Sesser Church of Christ for many years. She was always involved in her children's school activities, and she was their biggest fan on the athletic field. Her children and grandchildren have fond memories of the time she spent teaching them everything from the Ten Commandments to the multiplication tables to skills like crocheting, quilting, gardening, and cooking dumplins. "Mama Dukes" loved being with children and always had the time and patience to let them work alongside her.
Mary Lou was preceded in death by her husband Lowell Dauksch and two brothers, Bill and Ben Murry. She is survived by three brothers: Bobby, Louie, and Keith Murry; her daughter Connie Dauksch Trull and husband David, son Danny Dauksch and wife Sue, son Lanny Dauksch and wife Penny, and son Leland Dauksch and wife Robin, as well as 11 grandchildren and step-grandchildren, 15 great grandchildren and step-great grandchildren, and three great-great grandchildren.
Graveside services will be on Saturday August 15, 2020 at 3:00 PM at Sunset Memorial Park in DuQuoin, IL with Bob White and Kirk Dauksch officiating. Visitation will be on Saturday from 1:00 PM until 2:30 PM at the Brayfield-Gilbert Funeral Home in Sesser, IL.
Donations may be made in Mary Lou's memory to the Sesser Church of Christ or Freed-Hardeman University and will be accepted at the funeral home.
For more information go to our website www.gilbertfuneralhomes.com