Loretta Odom, 91, of Benton, passed away at 10:15 a.m. on Wednesday, July 29, 2020, at Helia Healthcare in Benton, surrounded by her loving family.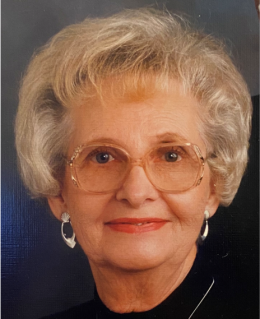 She was born on December 14, 1928, to Seburn and Ethel (Ward) Neal at Frisco, IL. On July 24, 1948, she married James P. Odom, and they were blessed with a devoted marriage of 68 years until his death on October 7, 2016.
Loretta was a successful Avon sales representative for 20 years. She was a member of the First United Methodist Church, Benton where she served as coordinator of bereavement dinners and a Sunday School teacher for many years. Her church family was very important to her. She was also a member of the Franklin County Home Bureau. Loretta enjoyed canning vegetables with her grandchildren, spending time with her family, having them over for dinner and celebrating birthdays and holidays together.
Loretta is survived by her two children, Karen (Bill) Hodges of Denver, CO and Brad Odom of Logan; four grandchildren, Emily (Victor) Munoz of Benton, Benji(Leslie) Odom of Ewing, Molly (Brandon) Koester of Benton and Jay Hodges of Tacoma, WA; seven great-grandchildren; one sister, Faye Klosowski of Milwaukee, WI and several dearly loved nieces and nephews.
She was preceded in death by her parents, Seburn and Ethel Neal, husband, James P. Odom, a grandson, Josh Odom, a granddaughter, Jennifer Hodges, a great-grandson, Deegan Odom, four brothers and four sisters.
Services have been entrusted to Pate Funeral Home, 301 S. Main St., Benton, IL.
Graveside services will be held on Monday, August 3, 2020, at 1:30 p.m. at the Masonic and Odd Fellows Cemetery, Benton, IL, with the Reverend Mark Minor, officiating.
The family would like to extend a special thank you to all the caregivers at Helia Healthcare who have helped take care of Loretta.
A recording of the graveside service will be available for viewing on Pate Funeral Home's website.
Memorials may be made to the First United Methodist Church and may be mailed to 203 W. Church St., Benton, IL 62812.
Online condolences can be given at www.patefh.com.