Clara Aline Crocker Brown, 99 years, 11 months, and 12 days passed away peacefully at her home in Sesser, on Saturday June 20, 2020.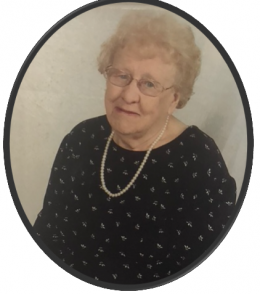 Clara was born July 7, 1920 in Goode Township to Raymond J. and Mary Della (McBride) Crocker. Clara lived most of her entire life within a mile and a half of her birthplace. She married Andrew Earl Brown on December 19, 1939 in Jackson, Missouri.
Clara, attended rural schools; Mount Tabor and White Oak for her elementary education and in 1936, graduated from the Goode-Barren Township High School. After graduating high school she attended Southern Illinois University for a limited elementary certificate and taught at the White Oak School, northwest of Sesser.
After being a housewife and raising her children; with the encouragement of her father, she worked 19 years at the Franklin County Housing Authority in Benton and West Frankfort. Once retired from the housing authority, she worked for Goode Township in Sesser for 16 years.
Throughout Clara's life she was a member of: the Goode Township Home Extension, American Legion Auxiliary Bates Post 560, Daughters of the American Revolution, and several genealogical societies such as: the Jackson County Illinois Genealogical Society, Grayson County Kentucky Genealogical Society, Jefferson County Ohio Genealogical Society, Southern Illinois Genealogy Society in Carterville, West Franklin Genealogical/History Society in Mulkeytown, and the Prairie Historian in Waltonville. Clara was also a charter member of the Goode-Barren Genealogical and Historical Society in Sesser. She was instrumental in starting the Goode-Barren Genealogical Library located in the back of the Goode Township.
During Clara's later years with her love for genealogy; she mastered learning to use the computer, and spent countless hours searching the internet and corresponding with others. During her time spent working on her own family genealogy, she discovered her direct descendants came over on the Mayflower.
Clara spent many hours walking Maple Hill Cemetery; her hard work paid off in 1996, when she published the Maple Hill Cemetery Book; which she loved doing. The book was dedicated in memory of her husband. She also gathered information that was used for the publication of Horse Prairie Cemetery book. Clara took great pride in her yard and the love she had for flowers.
Above all, she loved her family. Clara is survived by two children: Ruth Ann McGlasson of Sesser, and David Earl Brown and wife Sharon Kay (Kerns) of Creston, IL.
At the young age of 38, becoming a grandmother, and not knowing what lied ahead of her; she opened her home to her grandchildren for various reasons throughout her life. She was proud of her home and the haven it provided throughout the years.
Her 13 grandchildren: William "Billy" Gale Hicks of Scheller; Vicki Lynn (Hicks) Lewis and husband Bruce of Valier; Alan Dale and wife Kelley LeAnn (Loucks) Hicks of Scheller; Patricia "Tish" Ann (Hicks) Pinegar of Sesser; Roger Earl and wife Sandra "Sandy" Dianne (Pitchford) Hicks of Scheller; Randall "Randy" Rex Roberson of Scheller, Richard "Rick" Roberson of Effingham, IL; Edward "Dean" Ritchie of Rochelle, IL; Crystal Gail (Brown) Dunseth and husband David "Scott" of Stillman Valley, IL; Dustin Earl and wife Noelle Shelby (Shultz) Brown of Sycamore, IL; Brian Lee and wife Angela "Angie" Lynn (Murphy) Gunter of Scheller; Brent Andrew Murphy and wife Melissa Ann (Donoho) Gunter of Scheller; Brice Taylor and wife Karla Marie (Nipper) Gunter of Ewing.
She is survived by 32 great-grandchildren: Ryan Gale and wife Lydia Raye (Dick) Hicks of Coello; Christin Michelle Hicks of Sesser; Jordan Lee Hicks of Scheller; William "Andy" Andrew and wife Anna "Katie" Kathleen (House) Lewis of Benton; Wade Alan Lewis of Benton; Alyn Beth (Hicks) Newbury and husband Timothy "Tim" James of Scheller; Tiffany Chanelle (Hicks) Powell and husband William "Eric" of Sesser; Sarah Elizabeth (Hicks) Alexander of Sesser; Mahaylah Claire (Hicks) Mabrey and husband Timothy "Tim" Lee of Scheller; Robert "Ethan" Hicks of Peoria, Dustin Lee and wife Chelsi Rhea (Overall) of Chaffee, MO; Alayna Brooke Hicks of Scheller; Michael Edward Pinegar of Sesser; Jeana Ann Louise (Pinegar) Williams and husband Austin of Sterling; Timothy "Tim" John and wife Maddie Hicks of Sesser; Katie Dianne (Hicks) Phillips and husband Kyle Ray of Scheller; Isaac Lee Hicks and wife Kelsey Taylor (Whitecotton) of Scheller; Grace Abigail (Hicks) Phelps and husband Michael Anthony of Sesser; Jonathon Michael Ritchie and wife Sara (Snow) of Oregon, IL; Owen Nathanial Dunseth and Amelia Paige Dunseth of Stillman Valley; Collin Andrew Brown and Lauren Elizabeth Brown of Sycamore; Lukas Brian Gunter, Elijah "Eli" Gunter, Garrett Lee Gunter, Gabe Edward Gunter and Annabelle "Belle" Lynn Gunter of Scheller; Brayden Andrew Murphy Gunter and Cody Raymond J Gunter of Scheller; Brylan Marie Gunter and Stella Elaine Gunter of Ewing.
24 great-great grandchildren: Waylon Lee Hicks and Halle Nicole Minier of Coello; Caeden Ryan Hicks of Sesser; Skyler Lynn Lewis of Benton; Layla Belle Newbury and Alba James Newbury of Scheller; London Rhyan Powell and Nash Eric Powell of Sesser; Talan Michael Alexander of Sesser; Brooklyn Nevaeh Grace Hicks of Scheller and Ashlee Nicole Hicks of Christopher; Torie Aline Pinegar of Sesser; Jacob "Jake" Aaron Hicks and Joshua "Josh" Thomas Hicks of Scheller; Joseph "Joey" Robert Hicks of Sesser; Gauge Ray Phillips, Karlie May Phillips, Della Kate Phillips of Scheller; Noa Grace Phelps and Rey Madelyn Phelps of Sesser; Henna Zurich Lewis and Hazel Elaine Lewis of Benton; Coraline Elaine Ruth Hicks of Chafee; Ella Ryann Ritchie of Oregon.
Clara is survived by son-in-law, Ronald Roberson of Scheller; sister-in-law's, Ruth Ann (Summers) Crocker of Sesser and Elizabeth Crocker of Oklahoma City, OK; and many nieces and nephews.
Clara was preceded in death by her husband Andrew "Earl" Brown, who died July 14, 1993. Her parents, Raymond J and Mary Della (McBride) Crocker; daughters, Glenna Jean (Brown) Roberson and Joyce Elaine (Brown) Gunter. Son-in-law, Hershel Lee Gunter; Sister, Dorothy Elizabeth (Crocker) Moody; brothers, Elmer Ellsworth Crocker, William "Bill" Crocker and Burton "Burt" Raymond Crocker. Sister-in-law, Wilma "Jean" (Dillow) Crocker and brother-in-law, Merle Moody and nephew, Carl Crocker. A special double cousin, Venona Lucille "Lucy" (Crocker) Laird. Clara also preceded in death by three special dogs who brought great joy to her: Rock, Bob and Krispy.
Graveside services will be on Sunday June 28, 2020 at 11:00 AM at the Maple Hill Cemetery with Brother Larry Cook officiating. Burial will be at the Maple Hill Cemetery in Sesser. Brayfield-Gilbert Funeral Home in Sesser is handling arrangements.
In lieu of flowers donations may be made to: SSM Health at Home Hospice of Illinois and will be accepted at the funeral home.
For more information go to our website www.gilbertfuneralhomes.com