Marguerite Yvonne Matyi, 86, of Christopher, Illinois passed away peacefully with her family by her side at 7:30 AM, Saturday, June 6, 2020.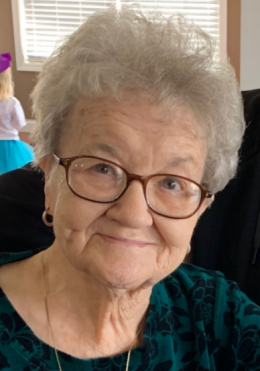 A private funeral mass will be on Wednesday, June 10, 2020 at 11 AM at St. Andrew Catholic Church, Christopher, IL. Graveside services for Marguerite will be at 12 PM at the St. Andrew Catholic Church Cemetery.
In lieu of flowers, memorial contributions are suggested to St. Andrew Chapel Fund, 412 E. Washington, Christopher, Il or CAYA (Christopher Area Youth Association), c/o Thomas House, 403 N. Ward, Christopher, IL. Gilbert Funeral Home is entrusted with the arrangements. Visit our website www.gilbertsfuneralhome.com.
Marguerite was born on August 20, 1933, in Christopher, Illinois to Henry and Carmen (Maniez) Bedar. She was the sister to two brothers, Rennie Bedar and Henry Bedar Jr., whom she greatly adored. She met the love of her life Albert Matyi on a Grey Hound bus coming home from her job at General Telephone. Their romance took off and they were married on April 1, 1952. It really took off!!
She is survived by her children Mike and Jenni Matyi, Benton, Steve and Sara Matyi, Mulkeytown, Beth and Kevin Davie, Johnston City, Janie and Randy Rowland, Mulkeytown, Francie and Rodney Fourez, Christopher and David Matyi, Mulkeytown, her grandchildren Thomas and Erin House, Christopher, Bill and Jacque Matyi, Johnston City, Joe House, Murrieta, California, Kevin Davie Jr, Johnston City, Meghan and Chad Dirler, Duquoin, Lindsi and Josh Downs, Duquoin, Nick and Molly Davie, Johnston City, Rodney and Katie Fourez, Swansea, Jared Fourez, Christopher, Katie and Eric Peradotto, Pickneyville, Loghan Matyi, Christopher and her great granchildren, Drake and Will Matyi, Max and Kylie Davie, Matyi and Mallory House, Londyn and Saylor Dirler, Jack and Addison Downs, Athena Fourez, Jase and Owen Fourez, Fisher and Lainey Peradotto, and Knox Davie. So many cousins and nieces and nephews whom she loved dearly. Also her beloved God children, Debbie Kretz and Mark Kirkpatrick.
Sadly Marguerite lost the love of her life, her husband Albert Matyi on November 19, 1973 and exactly 28 years later on the same day, her beloved daughter Cheryl (Sissy) House in 2001. She was preceded in death by both of her parents and her brothers.
Marguerite, also known as GMA to many, will always be remembered as a huge Chicago Cubs fan and fortunately was able to see her Cubs win the World Series in 2016. She was a huge supporter of the Christopher Bearcats and enjoyed spending time with her classmates. She will be remembered as a loving and devoted mother and grandmother. She loved to pray her rosary daily and always made of list of those who needed special prayers. To us she was a legend in her own time.
Although she will be missed greatly by her family and friends we are comforted knowing that she is with Albert and Sissy and all of her loved ones in heaven.