Geneva Hall, 95, of Peoria, IL, formerly of Benton, IL, passed away at 10:46 a.m., on Wednesday, February 5, 2020, at the OSF Richard Owens Hospice Home in Peoria, IL.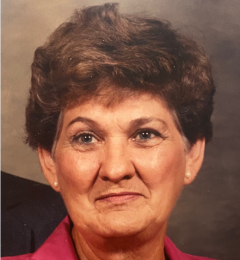 She was born on July 12, 1924, to Walter and Idella (Curry) Hubbard in Coleman, TX. Geneva worked as a School Attendant for Grant Grade School. On August 12, 1944, in San Angelo, TX, she married Oris Ray Hall, and he proceeded her in death on May 21, 1992.
Geneva was a former member of North Benton Baptist Church. She was a loving mother, grandmother and great-grandmother. Geneva enjoyed fishing, dancing and gardening.
Geneva is survived by her two children, Sharon Rae Gulley and husband Dr. Roy Michael Gulley, of Peoria, IL., and Brett Hubbard Hall and wife Lisa Mitchler Hall, of West Frankfort, IL; three grandchildren, Dr. Joshua Gulley and wife Patricia Gulley, Tessa (Gulley) Hunt and husband Jake Hunt, and Danielle Hall; five great-grandchildren, Olivia Gulley, Ethan Gulley, Elliot Gulley, Brayden Hunt, and Sydney Hunt; and many nieces, nephews, cousins and friends.
She was preceded in death by her parents, Walter and Idella Hubbard; husband, Oris Ray Hall; two brothers, Lavert Hubbard and James Hubbard; three sisters, Ozell Foster, Gertrude Boyd and Marcella Walker.
Funeral arrangements have been entrusted to Pate Funeral Home, 301 S. Main St., Benton, IL.
Visitation will be held on Saturday, February 8, 2020, from 11:00 a.m. to 1:30 p.m., at Pate Funeral Home.
Funeral services will be held at 1:30 p.m., on Saturday, February 8, 2020, at Pate Funeral Home, with Pastor Kurt Sanders officiating.
Burial will follow services at the Masonic and Odd Fellows Cemetery, Benton, IL.
Memorial contributions may be made to the Parkinson's Foundation or the Foundation for Fighting Blindness and will be accepted at the funeral home.
Online condolences can be given at www.patefh.com.