(Editor's Note: This story appeared in Southern Illinois Sports Connection Magazine in April 2009. Vergil Fletcher passed away two months later on June 30, 2009. In my opinion this rates as one of the top stories we shared with sports fans in SISC.) JM

By Jim Muir
The relationship between coaches and players has provided the inspiration for movies, books and other countless stories.
But the love story between an aging coach and his former players – a love story that plays out each day in Collinsville – provides a storyline that not even a Hollywood script could equal.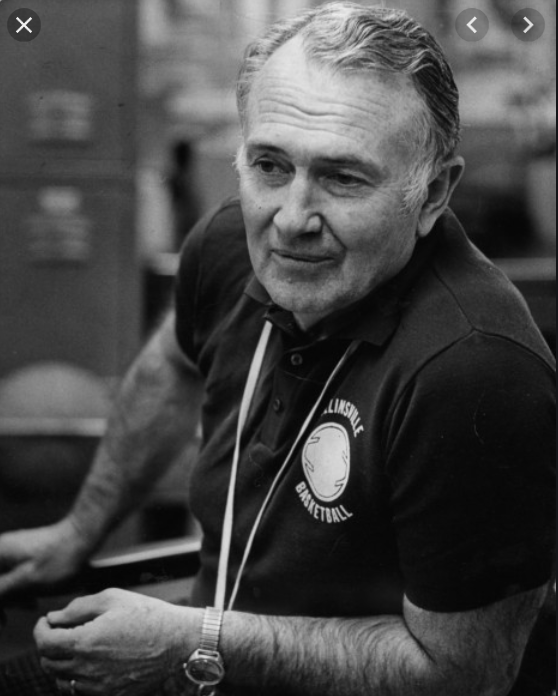 In order to understand this remarkable story you have to first travel back in time 63 years to 1946 when then 30-year-old Vergil Fletcher, a Johnston City native, was hired as head basketball coach at Collinsville. Nobody, not even Fletcher, could have imagined what the next 32 years would entail.
During that span Fletcher compiled a won-loss record of 747-170, numbers that translate to an average of 23 wins per season and only five losses. Fletcher also garnered more state tournament victories (21) and more state tournament games (34) than any coach in Illinois history. His Kahok teams won state championships in 1961 and 1965, finished second in 1957, third in 1978 and fourth in 1950. Fletcher had only two losing seasons in his 32 years at Collinsville and won 20-plus games 27 times.
A stern tactician, a tough-minded disciplinarian and a fierce competitor are only a few of the terms used to describe Fletcher's coaching style in Collinsville where he was revered in the community. The Collinsville High School gymnasium was named after him – while he was still coaching.
During his 32-year career he also took an amazing 14 Collinsville teams to the state tournament and counting stints at Mount Pulaski and Pana has won 792 games, good enough for fourth on the list of all-time winning coaches in Illinois history. Recognized in 2007 as one of the "100 Legends of the IHSA Boys Basketball Tournament," Fletcher also coached football, cross country and track. He was named to the National High School Sports Hall of Fame in 1983.
While Fletcher's coaching legend is intact his real legacy and the true impact he had in shaping the lives of his former players can be found on full display every morning at a modest home on Vandalia Street in Collinsville.
At age 93 Fletcher and his wife Violet, age 90, live alone in the same home where they raised their family while helping to make basketball an event so popular that all the stores in town closed at 8 p.m. on Friday night. The couple has seven children, who all live in different states. Vergil and Violet will be married 71 years in June.
With two bad knees from his football-playing days at Illinois College in the mid-1930s and 93 years behind him Fletcher is frail, needs daily assistance and requires aid to both stand and sit. Fletcher has some limited mobility with the aid of a walker.
This is where the love story begins.
Despite the fact that Fletcher has not prowled the sidelines for 31 years a group of former Kahoks – a couple who are in their mid-60s and played for him nearly 50 years ago – have combined to provide assistance to the Fletchers and to check on their former coach daily. The former players check on the elderly couple, take their former coach to his doctor appointments, run errands and even make sure Fletcher has a clean shave daily.
Bogie Redmon, an All-American on the undefeated 1961 state championship team and besides Fletcher the most recognizable name associated with Collinsville basketball, shrugged off the idea that the loyalty and dedication to their former coach was anything special.
"This might be rare someplace else but it's not rare in Collinsville," said Redmon. "He's still 'Coach' and always will be. Just think of the lives he touched while he was coaching. We take him out to lunch once in a while and come to see if they need anything and that everything is OK, everybody here loves Coach Fletcher."
Redmon admitted that Fletcher was tough and demanding on his players but said growing up in Collinsville still provides him with warm memories.
"It was just fantastic," said Redmon. "Kids grew up wanting to be a Kahok and wanting to play for Coach Fletcher. There was a real sense of pride in putting on that purple and white letter jacket and walking around town. People around the community knew who you were. I didn't want to screw up and I would have never done anything to embarrass the community or the team."
Redmon said his parents provided the most influence in his life and right behind them was Fletcher.
"I really had a unique set of circumstances growing up," recalled Redmon. "My dad, who died in 1993, was the same age as Coach Fletcher and at home his word was the gospel. It was his way or no way. And then when I got to the gym Coach Fletcher's word was the gospel and it was his way or no way. We won the state championship in 1961 and ever since then my name and his have been linked together. That's been a great asset to me all my life."
Jerry Soehlke, a 1964 Collinsville grad and a member of two super sectional teams (1963 and 1964), echoed Redmon's comments about growing up with a desire to play for Fletcher.
"That's what you dreamed about as a kid in Collinsville, playing for Coach Fletcher and winning a state championship," said Soehlke. "It was the only game in town. I can remember showing up for the games and there would 2,000 people out front waiting to get in the gym."
Soehlke said the town virtually shut down on Friday night when the Kahoks were at home.
"Every business in town closed on Friday night at 8 p.m. and they pushed the start of the varsity game back to 8:30 so folks could get there," said Soehlke.
And the Kahoks rarely disappointed the faithful following, especially at home where during one stretch of Fletcher's coaching career they won 62 straight home games during a span that started on Dec. 2, 1960 and ended on Feb. 4. 1966.
Soehlke, whose father was good friends with Fletcher and kept the scorebook for more than 50 years at Collinsville games, said it was rare to have two men in his life that had such an impact.
"Your father is your father but he was 'Coach' and just like my dad expected certain things, Coach Fletcher also expected certain things," said Soehlke said. "I knew what was expected from both of them and I did it. To me, it was a great thing to have two people in my life that mean so much to me."
The lasting impact of being a basketball player Collinsville was evident as Redmon and Soehlke talked about the final game of their high school career. Redmon talked about reveling in the final seconds of a state championship while Soehlke described the final minute of a 55-50 loss to Centralia in the super sectional – the second straight year that the Orphans had ended Collinsville's season in a Sweet 16 showdown.
As Soehlke talked about the game in detail, noting that Collinsville had a lead entering the fourth quarter, his voice broke and his eyes rimmed with tears.
"We were undefeated and I really thought we were good enough to win a state championship. I remember when we lost the lead for good and I also remember that we shot terrible from the free throw in the fourth quarter," said Soehlke. "It's still hard for me to talk about that game."
Fred Krietemeyer, a 1961 Collinsville graduate, was an outstanding football player at Collinsville but did not play basketball during his final two years of high school.
"On a 15-man team … I was the 16th man," Krietemeyer laughed as he described his basketball talent. "But, I still loved basketball and was a fan even back in high school."
Krietemeyer played football for Fletcher and said he feels the same loyalty and dedication as those who played basketball for the longtime coach. Krietemeyer said the basketball success at Collinsville sometimes overshadows the fact that Fletcher won more than 100 football games with the same tough-as-nails coaching philosophy.
"People always associate Coach Fletcher with basketball but he coached football, cross country and track so he touched a lot of lives in a lot of different sports," said Krietemeyer. "He was a great basketball coach but he was also a great football coach. He averaged five wins a season for 20 years."
Krietemeyer and Harry Lang, another former player, are the two most consistent visitors rotating on a daily basis. Krietemeyer and his wife are also part of a lifeline response group for the elderly couple.
"I'm happy to be able to give back to Coach Fletcher, he has had a huge impact on a lot of lives, including mine," Krietemeyer said.
As the group of former players bid farewell to the coach on a recent morning Redmon, still an imposing figure at 6-feet-6-inches and 260 pounds, bent down next to his now-frail coach and put his cheek against Fletcher's cheek.
"Good bye Coach, see you later," he said.
After all these years Vergil Fletcher is still the coach.
Coach Fletcher by the years:

1946-47 | 29 – 5 | Vergil Fletcher
1947-48 | 27 – 2 | Vergil Fletcher
1948-49 | 25 – 3 | Vergil Fletcher
1949-50 | 25 – 7 | Vergil Fletcher
1950-51 | 8 –17 | Vergil Fletcher
1951-52 | 22 – 4 | Vergil Fletcher
1952-53 | 24 – 4 | Vergil Fletcher
1953-54 | 13–12 | Vergil Fletcher
1954-55 | 22 – 6 | Vergil Fletcher
1955-56 | 22 – 7 | Vergil Fletcher
1956-57 | 34 – 1 | Vergil Fletcher
1957-58 | 25 – 3 | Vergil Fletcher
1958-59 | 16–12 | Vergil Fletcher
1959-60 | 25 – 3 | Vergil Fletcher
1960-61 | 32 – 0 | Vergil Fletcher
1961-62 | 20 – 5 | Vergil Fletcher
1962-63 | 26 – 3 | Vergil Fletcher
1963-64 | 28 – 1 | Vergil Fletcher
1964-65 | 30 – 2 | Vergil Fletcher
1965-66 | 25 – 3 | Vergil Fletcher
1966-67 | 28 – 3 | Vergil Fletcher
1967-68 | 24 – 3 | Vergil Fletcher
1968-69 | 18 – 8 | Vergil Fletcher
1969-70 | 27 – 3 | Vergil Fletcher
1970-71 | 3 –19 | Vergil Fletcher
1971-72 | 20–10 | Vergil Fletcher
1972-73 | 26 – 3 | Vergil Fletcher
1973-74 | 25 – 4 | Vergil Fletcher
1974-75 | 20 – 6 | Vergil Fletcher
1975-76 | 20 – 7 | Vergil Fletcher
1976-77 | 30 – 1 | Vergil Fletcher
1977-78 | 28 – 3 | Vergil Fletcher
747 – 170 32 years .815
Source: IHSA.org
Sidebar:
Behind every good man …
Violet Fletcher might best be described as a spitfire.
"I'm a typical Italian," she says. "I'll tell you what I think whether you ask me or not."
Born and raised in Johnston City the former Violet Foli met Vergil Fletcher when they were both teenagers in the early 1930s and, six children and 70 years of marriage later, the pair have been together ever since.
At age 90 Violet looks, acts and gets around like someone 20 years younger and has a mind that has a strong resemblance to a steel trap. When asked about her children she quickly gives out names, ages and where each one lives. There's Marietta, in Cedar Falls, Iowa, Marlene, Marcia and Marian in Charleston, South Carolina, Mike, in Memphis and Marc in Naples, Florida.
Violet said sports have always been the driving force in Vergil's life.
"When we were going together and it got to be a certain time he had to get home I'd walk the rest of the way myself," she said. "He believed in training even back then and he carried that through as a coach."
While Virgil built a reputation for coaching success, Violet, by her own admission, established somewhat of a reputation of her own – as a vocal critic of referees.
"Yeah, I was pretty tough on them … but only when they made a call against Collinsville," she said with a grin. "I never got a technical foul but I got threatened with one."
While the story could not be confirmed legend has it that Violet was banned (by Virgil) from attending games for a short period of time in hopes of getting her to ease up on the men in striped shirts. Legend also has it that the ban was unsuccessful.
For decades Violet took care of the teams' uniforms, washing, drying and making sure they were at the gym by game time.
"And I mended them as they needed it," she said.
Violet noted that while Virgil was known as being a tough disciplinarian there was also a soft side that was seldom seen by the public.
"He loved those boys … he loved every one of them," she said. "He did things for them that nobody ever knew about. He was tough on them but he loved them and every team was special to him. Even to me, he never said 'this team is better than that team or this team was the best ever.'"
Violet was asked to sum up 70 years of marriage, six children and more than 1,000 games of basketball.
"It's really flown by," she said. "But it's been wonderful living here in Collinsville, just a wonderful life."
— Jim Muir —
Sidebar
What was it like playing for Vergil Fletcher?
On Dating
"Between my junior and season Coach had us at the gym and we were at half court in a circle and he was telling us what he expected of us and how we could win a state championship the next year with three starters coming back. Then he turned to Roger Bohnenstiehl, he was our star and Coach said, 'I hear you have a girlfriend, Roger. Well, Roger just smiled and said, 'yes sir, I do.' Coach said, 'here at Collinsville you either play basketball or you have a girlfriend so I think you need to make a decision. That was the last time Roger had a date at Collinsville High School. His next date was at the University of Kansas."
– Jerry Soehlke –
On Conditioning
"I remember when they asked me at the state tournament how tough it was to play three games in two days and I told them not tough at all after going to Coach Fletcher's practices. We'd normally go three hours if everything went well but there were times we went longer. And then there was the night that we got beat on the road and he made us practice when we got back to the gym at Collinsville. I think the conditioning always paid off for us in the fourth quarter."
– Bogie Redmon –
On Fundamentals
"Coach Fletcher was a stickler on fundamentals. The passes had to be crisp, and you had better box your man off the boards. He taught the basics and fundamentals over and over and over again until you got it right and until you knew what you were supposed to do. There was always talk about other teams using Coach Fletcher's ball press, well they used the press but he coached the press."
– Jerry Soehlke –
On Fletcher's coaching style

"Coach worked hard and really got after it in practice but during the games he let you play. I remember in the state championship game we were playing Thornton and the score was tied 14-14 at the end of the first quarter. We came to the huddle and all Coach said was, 'you guys are not doing what you know how to do, now get out there and play the way you know how.' We outscored Thornton 71-36 over the next three quarters and won the game 85-50.
— Bogie Redmon —
On the all-seeing eye of Coach Fletcher

"You just knew that on Friday night you had better get your butt home because he'd check to see, or at least we all thought he was checking on us. If you were out and about then you had a problem. He mellowed a little in his later years but back in the late 1950s and early 1960s he'd drive up and down the streets looking for you."
– Jerry Soehlke –
On early morning free throw shooting
"We practiced hard in the afternoons and then Coach had us back at the gym at 6:30 every morning shooting free throws. After we got older and got out of school we realized that Coach had five daughters and a wife and maybe he had us come in early because he wanted to just get the bathroom to himself every morning."
-Bogie Redmon –
On Coach Fletcher's five daughters
"Coach had some good looking daughters … but we were already scared of him, let alone have the nerve to ask his daughter for a date."
– Bogie Redmon –
Sidebar:
What's in a name? If the name is 'Fletcher' then the answer is probably athletics
Perhaps no other trio of brothers has had more of an impact on Southern Illinois sports than the Fletchers – Cecil, Virgil and Jack.
Born and raised in Johnston City, all three brothers are members of the Illinois Basketball Coaches Association (IBCA), Cecil and Virgil as both a player and coach and Jack as a coach.
Cecil, the oldest of the brothers was a graduate of Johnston City High School and a starter on the 1929 Indians' state championship team. After a stint in the service Cecil followed Virgil, also an outstanding three-sport standout at Johnston City, to Illinois College where they both earned all-conference honors in 1935 as the Blueboys. The brothers served as co-captains during the 1938 basketball season.
While Virgil made his mark in basketball Cecil, who died in 2001, established himself as one of the top track and cross country coaches in Southern Illinois and Jack carved out a highly successful career in baseball at Marion High School.
Some interesting notes about the brothers Fletcher:
* Cecil, as a soccer player at Johnston City, won a soccer championship in the late 1920s.
* Jack coached every sport, basketball, baseball, track, cross country, at Mulberry Grove when he began his coaching career
* Cecil and Virgil both have 100-plus wins in football.
* Jack is the grandfather of Caleb, Zach and Damon Wilson, the highly successful Wrestling Wilsons of Benton.
* Jack (Marion) and Vergil (Collinsville) met in the championship game at the Carbondale Holiday Tournament – Collinsville won.
*Vergil toured two summers with "The Wizard of Westwood," legendary UCLA Coach John Wooden, who used Fletcher's expertise to teach the zone "ball press."
*Vergil worked summers at Fairmont Race Track for more than 30 years to help support his wife and six children.
* Jack helped pick players for the Pan-Am Games and worked countless baseball camps with Itchy Jones at SIU and Illinois.
* Cecil was best friends with the late Ron Herrin, they worked together at Olney.
* Vergil was named on the "100 Legends of Illinois High School Basketball" in 2007 and along with Bogie Redmon, coached Kevin Stallings, now coach at Vanderbilt University, Tom Parker, who starred at Kentucky and Richard Keene, a McDonald's All-American, who played at Illinois.
— Jim Muir —