By Jim Muir
Who's the greatest Southern Illinois high school basketball player of all time? That particular question has been asked and the answer argued for decades.
Certainly the era involved, size of school and the success of the player's team make up the usual discussions when the best-ever question is brought up.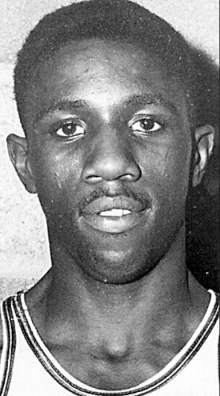 However, if offensive prowess is the main factor that goes into determining the best high school basketball player from our region to ever lace up a pair of sneakers, Charlie "Chico" Vaughn is in a class by himself.
Nearly 50 years after graduating from tiny Tamms High School Vaughn still holds the all-time career high school scoring mark in Illinois with 3,358 points. Vaughn scored 377 points as a freshman, 844 as a sophomore, 1,085 as a junior and 1,052 as a senior.
Perhaps the best way to put those gaudy numbers in perspective is to compare them with some of the other high school greats from this area – players who were virtual scoring machines. Among those falling in behind Vaughn on the all-time scoring list in Illinois are Marty "Mule" Simmons, of Lawrenceville (2,968 points), Scott Burzynski, Sesser-Valier (2,762 points), Dwight "Dike" Eddleman, (2,702 points), Centralia, Ron Stallings (2,643 points), Ridgway, JoJo Johnson (2,575 points) Benton, Jim Mitchell, (2,561points) Zeigler-Royalton, Mike Duff (2,558 points) Eldorado and T.J. Wheeler (2,528 points) Christopher.
SISC Publisher Jim Muir recently sat down with Vaughn and discussed his glory days in Tamms, the three-point shot that didn't exist when he played, his still legendary jump shot and today's game of basketball.
————————-
Despite the fact that he's now 69 years old and a little stooped when he walks Charles "Chico" Vaughn still carries himself like an athlete. In fact, looking at his 6-feet-4-inch frame, his smooth gait, long arms and ham-like hands it doesn't take much imagination to picture Vaughn in his hey-day reigning points from all over the court on outmanned opponents.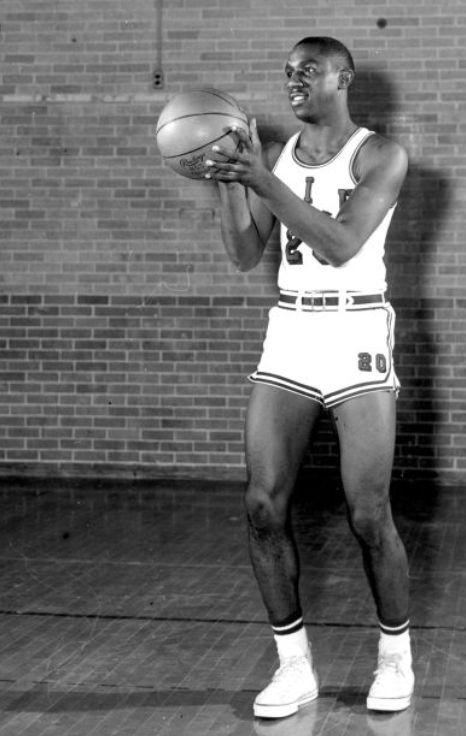 The fifth of seven children Vaughn actually got his start playing basketball in the northwest, living in Portland, Oregon until he was in the sixth grade. His dad worked in the shipyards in Portland and by his own admission his family was "dirt poor" while he was growing up. Vaughn said it was when his family announced that they were moving back to Southern Illinois that he realized that he had special God-given talent as a basketball player – head-turning talent that might someday open other doors.
"I was in the sixth grade and the school officials didn't want me to move back," recalled Vaughn. "They wanted me to live with my grandma in Portland so I could stay and play basketball. They really worked hard trying to get me to stay and I was only in the sixth grade."
Despite the efforts to keep Vaughn in Oregon his family moved back to deep Southern Illinois, settling in tiny Hodge's Park, located near Tamms. Vaughn played organized basketball in Portland through the sixth grade but there was no junior high school team in Hodge's Park so he actually sat out two years before going to Tamms High School.
During that two-year stint Vaughn honed his skills in local sandlot games but basically entered high school as an unknown quantity at Tamms, who competed against Gorham, Cobden, Dongola, Ullin, Thebes, Mounds City and Mounds Douglas. However, early in his freshmen season he caught the attention of coaches and eight games into his first season of high school ball made the move to the varsity.
"I ended up being the leading scorer on the varsity team my freshmen year," Vaughn said.
When asked about his natural ability versus his work ethic Vaughn said he was keenly aware of both.
"A lot of things came easy for me, I was quick and I was a jumper, but I always believed in giving 100-plus percent all the time," said Vaughn. "I worked hard to become a better player."
Vaughn said his vertical jump was never measured during his playing days but many longtime Southern Illinois basketball fans claim that the Tamms phenom could literally put his elbow on the rim.
"Nobody ever measured how high I could jump, so I don't know," Vaughn said. "But, I could get in the air pretty good."
Vaughn said he also had another philosophy about the game that he carried throughout his career.
"I thought the basketball was mine," Vaughn said. "And it didn't matter if I was on offense or defense when that ball went in the air I wanted it."
Contrary to today's high school basketball players who live in the gym and sometimes play 25-30 games during the summer months Vaughn said he didn't darken the door of a gymnasium during the summer. In fact, Vaughn said he felt like summers were made for something besides basketball.
"I didn't like summer basketball, never did," said Vaughn. "I played baseball in the summer. In fact, right after I graduated high school I was drafted by the Philadelphia Phillies but I decided to go to SIU and play basketball instead. I thought going to college would be my best bet."
Vaughn scored over the 60-point mark on three occasions and over the 50-point mark numerous times and once had a 46 point second half where he scored 30 points in the fourth quarter. However it was none of those games that came to mind when asked to recall his most memorable offensive showing.
"I can remember it like it was yesterday, it was during the regional tournament during my senior year and we were playing Mounds Douglas," said Vaughn. "I scored 16 points in the first half and in the second half I scored 33 straight points and never missed a shot and ended up with 49 points. It was just one of those games where I couldn't seem to miss."
Vaughn's teams advanced out of regional tournament play on three different occasions but ran into the talented Herrin and Pinckneyville teams of the late-1950s in the sectionals where they were defeated.
While Vaughn played during a different era on the court he also played during a different era off the court. He said traveling to some gymnasiums in Southern Illinois meant that racial slurs would be a part of game.
"It was bad," he said. "Some of the teams had never seen a black ballplayer before. We just tried to play the game and get out of there, but I heard plenty of racial insults along the way."
Vaughn said he always tried to rise above the racial tension.
"I knew myself and what I was about," said Vaughn. "As long as they didn't touch me or lay a hand on me words didn't mean anything. I tried to make my statement and do my talking on the court."
Vaughn said Tamms was one of the first integrated schools in Southern Illinois and the team consisted of both black and white players. While Vaughn still vividly recalls the racial tension he often encountered he also lists his high school coach, Scottie Lynch, a white man, as one of the most positive influences in his life.
"He was the kind of guy that didn't care who you was, he had a set of rules and everybody had to abide by the rules," said Vaughn. "He didn't care what color you were he just treated everybody the same."
Despite his 6-foot-4-inch frame and his jumping ability Vaughn said the strongest part of his game was his outside shooting. Vaughn's quick answer showed that he'd given the matter some previous thought when he was questioned about how many of his shots would be three-pointers by today's standards. When asked about his range as a jump shooter he answered by giving his opinion about the 19-feet-nine-inch range that nowadays counts for three points.
"I would say that 70-percent of my shots would be three-pointers," said Vaughn. "I had a range of about 30-plus feet, so I was crossing the half line looking for a shot. A lot of guys back then shot from that distance, a 19-footer was a lay-up to us."
Vaughn completed his high school career with 3,358 points and was recruited by scores of colleges but instead opted to take his basketball skills to Carbondale and play for the SIU Salukis.
A step up in competition didn't change anything for Vaughn as he led the Salukis in scoring for four consecutive years, scoring 2,088 points which is still an SIU record. At SIU Vaughn averaged 23.6 ppg his freshmen year, 26.9 his sophomore year, 23.4 his junior year and 21.9 ppg through nine games his senior year. In all, Vaughn played in only 85 college games and had a career average of 24.6 ppg. Much like the list of high school players he stands in front of the list of those at SIU also speaks volumes about his scoring record as a Saluki. Some of those behind Vaughn include Kent Williams (1999-2003) 2,012 points, Mike Glenn, 1974-77, 1,878 points, Ashraf Amaya (1990-93) 1,864 points, Darren Brooks (2000-2005) 1,761 points, Steve Middleton (1985-88) 1,710 points and Joe C. Meriweather (1973-75) 1,536 points.
Vaughn was declared academically ineligible his senior season and didn't return to school, opting to take his basketball skills to the NBA.
"The issue involving the eligibility was my fault, entirely my fault," said Vaughn. "I just started not going to class and I didn't pass my classes. The rest of it was just playing basketball like I had always played. I just screwed up and didn't go to class."
Following his collegiate career Vaughn played for nine seasons in the NBA that included stints in St. Louis, Detroit and San Diego. When asked about his professional salary compared to the multi-million dollar contract these days Vaughn simply laughed.
"It was pitiful what we made," he said. "In the mid-1960s Bob Pettit was the best player in the NBA, a superstar and he made $49,000 a year. My first contract in 1963 was for $10,000."
Vaughn played with and against the who's who of NBA players including many who were recently named as the top 100 to ever play professionally. Vaughn listed Oscar Robertson, Jerry West, Elgin Baylor, Hal Lanier, Bill Russell and Wilt Chamberlain as superstars that he competed against. When asked who the best of that group was, Vaughn didn't hesitate in saying that "The Big O" – Oscar Robertson stood at the top of his list with Jerry West a close second.
"He was big and strong, he had great hands and he could score from anywhere and he could pass," Vaughn said about Robertson. "I think I lost 13 pounds one night trying to guard him."
Showing that he still pays attention to the professional game Vaughn named Dwayne Wade, Tracy McGrady, Dirk Nowitski, Kobe Bryant, Jason Kidd and Steve Nash as his favorite current players.
Vaughn is known for his scoring prowess but he stressed that during his playing days, from high school to the pros, all aspects of the game was important to him.
"You know, when I say that I thought the ball was mine I'm talking about rebounding and scoring too," Vaughn said. "I played bigger than my height, I led SIU in rebounding, and that's something that was important to me."
When asked if he could have played basketball with the same success now that he enjoyed 50 years ago Vaughn didn't hesitate when answering.
"Yeah, I think I could've played today," said Vaughn. "The game is faster but it still comes down to putting the ball in the hole."
While Vaughn has enjoyed success on the hard court his life has not always been easy. In 2003 his wife of 24 years, June, died of colon cancer and then 10 months later his 22-year-old son Justin was killed in a shooting incident in Cairo.
"At times like those you count on God, your family and friends to get you through it," said Vaughn. "I just put my hand in God's and he helped me through it."
In 1988, 30 years after leaving SIU, Vaughn returned to the Carbondale campus and obtained his bachelor's degree in recreation. For the past 16 years he has worked at the Meridian High School as a teaching assistant.
"I love my job at Meridian and I love the interaction with students," said Vaughn. "I look forward to being there every day."
Vaughn said he's surprised, especially with the advent of the three-point shot, that his high school career record has never been eclipsed.
"It's been nearly 50 years now," said Vaughn. "Yeah, I'm surprised that it's never been broken. That record is like me, it's been around a long time and sort of stood the test of time and I'm proud of that. What's happened to me during my life because of basketball, it's a very special thing."
SIDEBAR STORY
Meridian High School is a better place because of the daily work of Charlie "Chico" Vaughn.
That's the assessment of Mitch Haskins, who has served as dean of students for nearly two decades and has held a close association with Vaughn during that time.
"He wears a lot of hats around here. He does morning security duty and he's one of the first faces that many kids see every morning when they enter the school," said Haskins. "He has a great rapport with the students."
Haskins said Vaughn works very hard to establish a line of communication with all students, not just those involved in athletics.
"He maintains his area of responsibility but also makes students aware that there are choices they make and with each choice there is a consequence," said Haskins. "He explains that there's a price tag with every decision and just does a great job working with the kids and has for years and years."
Haskins said Vaughn has the ability to find common ground with all students.
"He's there greeting the students every morning and he'll talk to them about the game the night before or the one coming up or what was on television the night before or maybe even a concert they attended," said Haskins. "He does some tutorial work with students and he talks about the importance of academics. And there are many times that students come to him with their personal problems. He's a father-figure to many of the students here."
— Jim Muir —