Ramona Louise Elder, 79, of Benton, passed away at 2:42 p.m., on Monday, January 13, 2020, at Memorial Hospital, Carbondale, IL.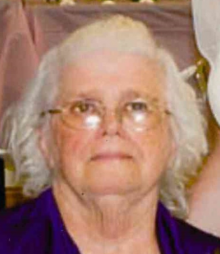 She was born on December 20, 1940, to Samuel and Mary (Rogers) Wertz in Benton, IL. Ramona was a homemaker. On December 12, 1975, she married Walter Joseph Elder, Jr., and he preceded her in death.
Ramona was a member of Whittington Church. She was a loving sister, mother, grandmother and great-grandmother. Ramona enjoyed watching TV, especially her day time soap operas and game shows. Walter and Ramona enjoyed gardening and sold vegetables for many years until Walters passing.
Ramona is survived by her children, Paula (Bryon) Snyder of Benton, IL, Kenneth (Becky) Henson of Benton, IL, and Alisha (Christopher) Anderson of Benton, IL; three sisters, Jo Dunn, Jane Ellen Myers, and Shirley Jean (Tommy) Seals; two sister-in-laws, Donna Bryce and Laura Cole; seven grandchildren, Amber (Josh Foist) Plumlee, Bryan (Tosha) Plumlee, Justin (Stacey) Plumlee, Diamond Anderson, Brandie (Jordan Wilson) Anderson, Christopher Anderson, and Cassie Phillips; three great-grandchildren, Paityn Snyder, Landon Foist, and Nyla Plumlee.
She was preceded in death by her parents, Samuel and Mary Faye Wertz; husband, Walter Joseph Elder, Jr; step-mother, Lucille Wertz Stella; three brothers, Harry Wertz, Butch Wertz, and Wayne Wertz, and one sister, Carolyn Ann Miller.
Funeral arrangements have been entrusted to Pate Funeral Home, 301 S. Main St., Benton, IL.
Visitation will be held Thursday, January 16, 2020, from 10:00 a.m. to 11:00 a.m., at Pate Funeral Home.
Funeral services will be held 11:00 a.m., on Thursday, January 16, 2020, at Pate Funeral Home, with Reverend Mark Minor, officiating.
Burial will follow service at Shiloh Cemetery, Whittington, IL.
Memorials contributions may be made to the family, and will be accepted at the funeral home.
Online condolences can be given at www.patefh.com.