James (Jim) Edward Kinsman, 78, went home to be with the Lord on Sunday, January 5, 2020.
Jim was a member of the First Baptist Church in West Frankfort. He was a former member of Westview Baptist in Belleville for 24 years and served as a chairman of Administrative Committee and church treasurer.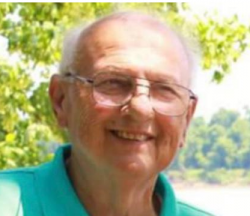 Jim also had a love for golf, sharing lots of games, scrambles and tournaments over 60 years with his many friends, family and business associates. He even landed a hole in one on his 50th birthday. Jim was known for his quick wit, jokes and comical stories. He brought much love and laughter to so many, he will be sadly missed as our loss is definitely Heavens gain.
Jim enjoyed his retirement after many years of service including West Frankfort Police Chief, Regional Manager and Claims Manager for AON, Inc, Claims Manager for AHRMA.
Jim was born on June 23, 1941 in Royalton and was preceded in his death by his parents, Henry and Doris June Kinsman; grandparents Ed and Gladys Spiller and Henry Sr and Victoria Kinsman; father and mother-in-law, Bill McGinty and Dixie McGinty.
Surviving is his spouse, Joy McGinty Kinsman; sons Jimmy (Sue) Kinsman and Joshua (Valerie) Kinsman; daughters Lora (Ed) Hammonds, Amy (Randy) Blocker and Jacy (John) Page. He is also survived by 11 grandchildren, Jacob, Lucas, AJ. Jonathan, MaKalie, Dominic, Jessica, Sarah, Tyler, Justiena, Kassandra and seven great grandchildren Janey, Jaxon, Hailey, Emma, Josephine, Kole, Clinton; one sister Karen (James) Krener and one brother Michael Kinsman; brother and sisters in-law Kathy (Thomas) Trotter, Brad (Molly) McGinty and Gay (Darin) Morton and several nieces and nephews.
He will be greatly missed by his dog and cat, Lulu and Gracy.
Services will be held at Morton and Johnston Funeral Home on Thursday Jan 9th, visitation from 3 pm to 7 pm. Funeral service will follow visitation at the funeral home at 7pm with Rev Vance Vyers officiating.
Private burial services with be Friday in Miners Cemetery, Royalton, for the family.
In lieu of flowers, donations can be made to the family at the funeral home.
For more information or to send online condolences please visit www.mortonjohnstonfuneralhome.com