Albert Henry Vanhorn, 89, of Greenfield, IN and a former Marion, IL resident passed away Sunday evening, January 5, 2020 in Greenfield, IN.
He was born in Whittington, IL on January 31, 1930, the son of Everett H. & Evva (Mooneyham) Vanhorn.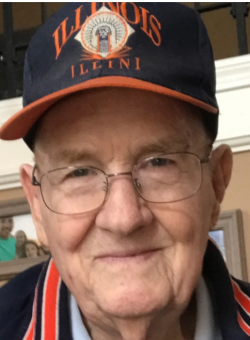 He married Billie (Wallace) on March 8, 1947 in Morganfield, KY and she preceded him in death on September 28, 2010.
Mr. Vanhorn served as Postmaster in Marion, retiring in October of 1987. He worked for the Postal Department for 35 years, working also in Benton, Carbondale, Zeigler, West Frankfort and McLeansboro Post Offices.
At age 21 Mr. Vanhorn obtained his officiating license retiring at age 76 after 55 years of officiating. He officiated baseball, basketball and football. Over the years he became extremely well known for his football officiating, which was his favorite. He said one of his highlights was officiating the state finals in football. After retirement he helped operate a sporting goods store that he & his son owned in Bradley, IL.
Mr. Vanhorn is survived by his daughter Sharon Steele, and husband Frank, of Greenfield, IN; grandchildren Andrea Wells, and husband Greg of Ocean Springs, MS, Melany Walden, and husband Chase, of Greenfield, IN, David Chenault, of Marion, IL, Amy Vanhorn White, of Somonauk, IL, Beth Vanhorn, of Kankakee, IL, Chris Tuthill, of Marion, IL and Shawn Tuthill, and wife Emma, of Marion, IL; 13 great-grandchildren and one great-great-grandchild; brother Ron Vanhorn, and wife Cindy, of Whittington, IL; sister Brenda Kellam, of Whittington, IL
Mr. Vanhorn was preceded in death by his parents, wife, son, Mike Vanhorn, daughter, Rene Tuthill and sister Ruth Ann Crunk.
Funeral services will be held at 1 p.m. on Saturday, January 11, 2020 at the Morton & Johnston Funeral Home in Benton with Rev. Greg Wells officiating. Burial will be in the Masonic & Oddfellows Cemetery in Benton. Visitation will be from 11 a.m. to 1 p.m. on Saturday at the funeral home.
For more information or to send online condolences please visit www.mortonjohnstonfuneralhome.com