By Jim Muir
It's fair to say that Rob Dunbar was far ahead of his time as a high school basketball player.
In the mid-1970s was not the prototypical 'post-up' center. At 6-feet-seven, Dunbar was a combination of quickness, athleticism, dazzling inside moves and the ability to handle the basketball and step out and hit 18-20 foot jumpers with ease. In many instances, he was a guard in a big man's body.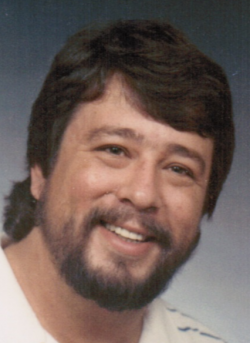 A 1975 graduate of Benton High School, Dunbar died December 31 after a yearlong battle with cancer. Following his death, teammates, classmates and legendary coach Rich Herrin, paused to talk about the impact that Dunbar made during the Benton basketball glory days of the mid-1970s.
Dunbar was a two-year starter for the Rangers and played on back-to-back teams that recorded more than 25 wins per season. During his senior season Dunbar was an All-Stater on a Rangers team that went undefeated in the regular season and finished with a sparkling 27-1 record.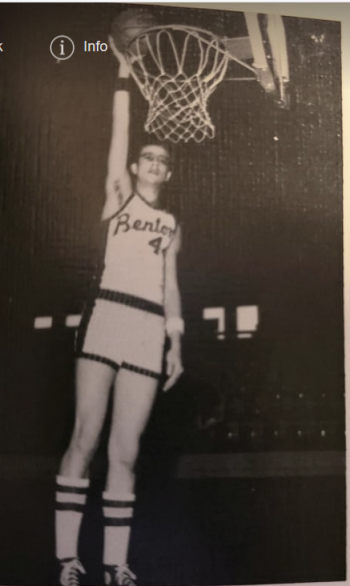 Speaking from his Carterville home, the 86-year-old Herrin, who amassed 982 wins in his illustrious high school and college coaching career that spanned all or parts of seven decades, fondly recalled Dunbar's career and particularly the 1974-75 team that went undefeated in the regular season with a 25-0 mark before falling in the first round of the West Frankfort Sectional.
"First, I was very saddened to hear the news about Rob," said Herrin. "He could do it all with a basketball, he was very talented and could score inside and outside. I knew he was good as a junior but as a senior he worked himself into a great player."
Herrin also pointed out that Dunbar is the fourth player from the top six on that storied Rangers' team to pass away. Other Rangers from that team who passed away previously include starters Keith Tabor and Mark Craddock, and Andy Lampley, who was the first one off the bench.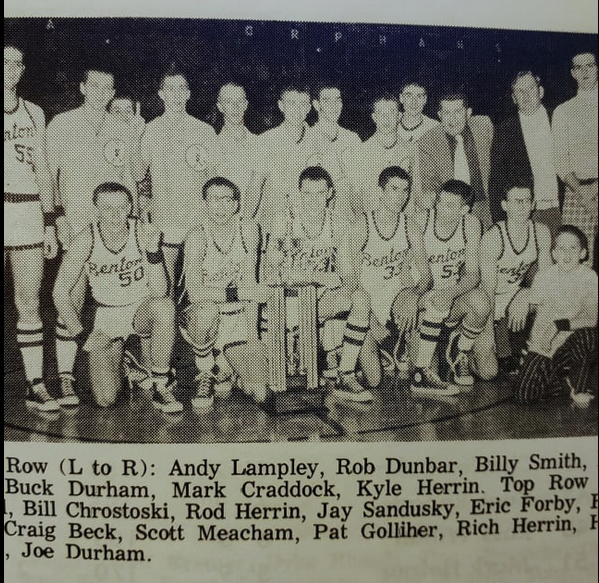 Herrin labeled the 1974-75 Rangers team as "one of the greatest of all time" pointing out that Dunbar, Tabor and Billy Smith provided a high-powered offense not often seen at the high school level. Herrin said that trio averaged slightly more than 55 points per game while becoming the third team in Benton basketball history to finish the regular season with an unblemished record.
"We had the three big-time scorers in Dunbar, Tabor and Smith and the playmaking ability of Craddock that made it all click. Bucky Durham was the fifth starter and his job was to rebound and play defense and he did that very well. Probably our biggest weakness was that we did not have a lot of depth."
The 1974-75 Benton team is without question the biggest "what-if" team that Herrin coached during his distinguished high school career and more than four decades later still provides a big piece of the legend and lore of Rangers basketball.
Blessed with size, quickness, the prolific scoring of Dunbar, Tabor and Smith, the heady play of Craddock and the blue-collar attitude of Durham and contributions off the bench by Lampley and Russ Mitchell, the Rangers rolled through the regular season with a record of 25-0. The Rangers were ranked No. 1 in The Associated Press statewide polls throughout the season during an era when there were two classes and Benton was in the larger class.
Benton rolled through the tough South Seven undefeated, won the prestigious Centralia Holiday Tournament where Dunbar was named MVP and then captured the Benton Invitational Tournament — a new tournament in only its second year. Dunbar, Smith and Tabor were all named to the BIT All-Tournament team.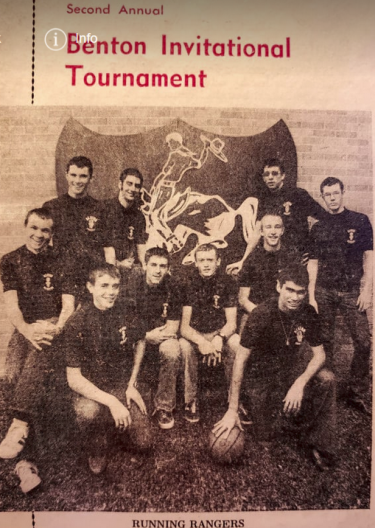 But, win No. 25 during that fateful season — a 20-point blowout victory over Carbondale in the final regular season game — proved to be one of the easiest of the year but also the most costly. Dunbar, the do-everything All-Stater, tore his ACL in the season finale and was lost for the rest of the upcoming post-season.
To this day Benton fans can still recall the spot on the floor where Dunbar went down and the hush that fell over the gymnasium.
"It was just a shame for him and the team that he tore up his knee," said Herrin. "There is not a doubt in my mind that if Dunbar hadn't gotten hurt we would have made it to the super-sectional in Carbondale and played East St. Louis. And I think we could have matched up with them."
Following Dunbar's injury the Rangers won two games in winning the Harrisburg Regional before losing a first round game at the West Frankfort Sectional against Olney — a team the Rangers had beaten by 25 points in the championship of the BIT one month prior.
"We were still a pretty good team after Dunbar got hurt," Herrin said. "But we didn't have the size, and that hurt us in postseason."
Jennifer (Hoffman) Peebles, of Johnston City, was also a 1975 graduate of Benton High School and was good friends with Dunbar since their grade school days. Peebles was a cheerleader during that magical unbeaten regular season run and said those games are still fresh in her mind 45 years later.
"It's just very sad that we have lost another classmate and this is the fourth player from that 1975 super-team," said Peebles. "I just remember they were so much fun to watch and such an amazing team. If we were at home or on the road the gym was packed every game. I will always remember when Rob fell under the basket and grabbed his knee and that ended his high school career. It seems like yesterday."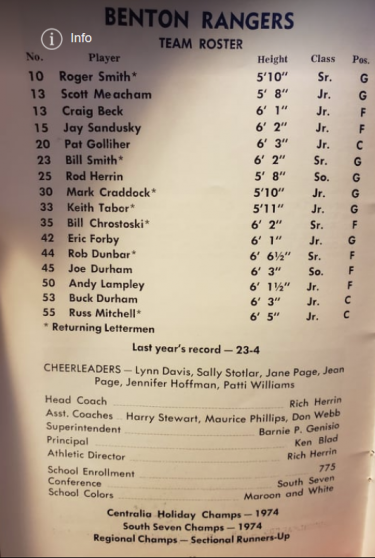 Smith, who lives in Benton, said he was deeply saddened to hear of the passing of another teammate.
"It certainly makes you think when something like this happens," Smith said. "I spoke with a couple other teammates yesterday after I heard Rob had passed. It makes you want to pick up the phone and call the people that made up a big part of your life as a high school student."
Smith echoed the sentiments about Dunbar's basketball skills saying that he was really a guard in a center's body.
"At 6-feet-7, Rob could just do so many things," said Smith. "He could handle the ball like a guard and could grab a rebound and then take the middle on the fast break. There was no dunking then but Rob would just take the ball up and drop it in … over his head. He was a great jumper."
Smith said three wins over the Centralia Orphans that season – two at Troutt Gymnasium in Centralia – are forever etched in his mind. Smith noted that this was during the era when the Orphans were coached by Jeff Carling and were known as "Carlings' Darlings." He said it was standing-room-only all three times the Rangers and Orphans battled that season.
"They were quick and athletic and you never knew what Coach Carling was going to do," Smith said. "I think it's a great example of just how good Rob was when he was named MVP at Centralia where the competition was incredible."
Smith, who is still considered one of if not the greatest all-around athlete to walk the halls at Benton High School, said he marveled at the transition Dunbar made from his junior to his senior season.
"It was incredible to be his teammate," said Smith. "There were times on the floor when I would watch him make a move under the basket and score and I would just sort of stop and think "wow' – he could just do everything on the basketball court. He's clearly one of the greatest players ever in Benton basketball history."
Memorial Celebration of Life Services for Dunbar will be held at 10 a.m. Tuesday, January 7, 2020 at the Leffler Funeral Home with Rev. Mark Minor officiating. Visitation will be from 5:00 p.m. to 8:00 p.m. Monday, January 6, 2020 at the Leffler Funeral Home of Benton.