Loudene Boehm, 93, died peacefully in her sleep on Monday, Oct. 21, 2019. Loudene retired from NASA and was a member of Holmes Street United Methodist Church. She was preceded in death by her husband, Joseph C. Boehm.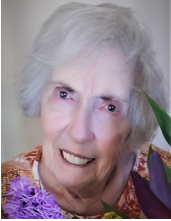 Survivors include her daughter, Cheri Haynes (Bill); granddaughter, Deena Sisk (Phillip); and one great-grandchild.
Visitation was held from 11 a.m. to 12 noon Thursday at Holmes Street United Methodist Church. The funeral was immediately following at the church with the Rev. Todd Owen officiating. Burial will be at Shiloh Cemetery in Whittington, IL. Graveside services will be held at 11:00 A.M. on Monday, October 28th at the Shiloh Cemetery in Whittington with Rev. Joey Dunning officiating.
For more information or to send online condolences please visit www.mortonjohnstonfuneralhome.com