Kay Jean Davis, 84, of Benton, passed away at 11:05 p.m., on Monday, October 21, 2019, at her home surrounded by her loving family.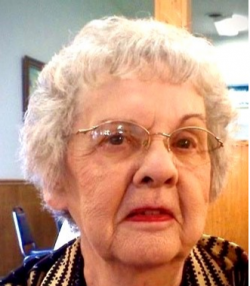 She was born on September 20, 1935, to Leslie and Edith (Davis) Prestage in Flint, MI. On March 24, 1964, she married James Richard Davis, and he preceded in death. Kay worked as a hairdresser until her daughter was 2. She then stayed home to raise her daughter and take care of her family.
Kay grew up in the Methodist faith. She was loving mother and grandmother. Kay enjoyed word searches, cooking, baking and sitting on the porch watching the chickens play. She loved watching her great-grand fur puppy, Chevy, playing.
Kay is survived by her loving daughter, Angelia Kay Davis-Cairel, and husband, Derrick, of Benton, IL; two granddaughters, Ashley Christina Cairel and Alexandria Kay Cairel; one grandson, Andrew James Cairel and one sister, Georgene Prestage-McCarty.
She was preceded in death by her parents, Leslie and Edith Maude Prestage, husband, James Richard Davis,a son, James Daren Davis, four sisters, Naydene Prestage-Klingler, Glenadine Prestage-Verran, Gertrude Prestage-Zbiciak and Velma M. Prestage, and one brother, Jack Colon Prestage.
Services have been entrusted to Pate Funeral Home, 301 S. Main St., Benton, IL.
Visitation will be held Sunday, October 27, 2019, from 4:00 p.m. to 7:00 p.m., at Pate Funeral Home, Benton, IL.
Funeral services will be held on Monday, October 28, 2019, at 10:00 a.m. at the Pate Funeral Home, Benton, IL, with the Reverend Derrick Cairel, officiating.
Burial will take place following services at Masonic and Odd Fellows Cemetery in Benton, IL.
Memorials may be made to Hospice of Southern Illinois and will be accepted at the funeral home.
Online condolences can be given at www.patefh.com.