Mary Kretz, 90, passed away Tuesday Sept 10 peacefully at Lavender Ridge in Mt. Vernon. She and her husband are together again.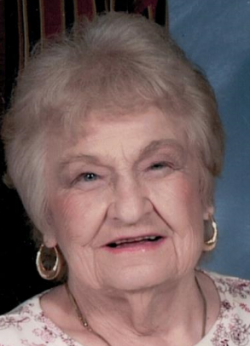 Mary was born on April 11, 1929 in Valier, Illinois the daughter of John and Barbara (Bede) Chizmadia. She married Roy Peter Kretz on May 24, 1958 who preceded her in death on September 12, 2014.
Survivors include her children, Roy John Kretz of Mt. Vernon, Robert (Lisa) Kretz of Bluford, Catherine Kretz of Bloomington, and Cindy Kretz (Dave Stark) of Mulkeytown; grandchildren, Roy John Kretz Jr., Shannon Kretz, Kali Boaz, Charles Boaz and Todd Boaz; and 2 great grandchildren.
She was preceded in death by her parents, husband three brothers John Chizmadia, Andy Chizmadia and Bert Chizmadia and one sister Ann (Chizmadia) Tury.
Mary was a homemaker and her enjoyment came from spending time with her family. She was a member of St. Andrews Catholic Church and the Altar Society in Christopher.
Visitation will be on Friday Sept 13 from 6:00 to 8:00 pm and on Saturday Sept. 14 from 8:00 Am until 9:45 AM at the Gilbert Funeral Home in Christopher. Services will be at 10:00 am on Sept 14 at St. Andrews Catholic Church in Christopher with Father Urban Osuji officiating. Burial will be at St Andrews Catholic Cemetery in Christopher
In lieu of flowers, the family asks that memorials may be made to the Alzheimer's Association. Envelopes will be available at the funeral home.
Mary was loved by her friends and family. The family would like to extend a special thank you to the compassionate care provided to Mary at Lavender Ridge Memory Care and through SSM Hospice.
For more information go to our website www.gilbertfuneralhomes.com