William "Bill" Elza Sample, 85, of Sesser, IL, passed away on September 1, 2019, at home surrounded by his family. Bill was born on April 12, 1934 in Sesser to Elza Mitchell and Mae Irene (Kirkpatrick) Sample. He married Theresa Marie (Undiener) Sample on November 7, 1959 and she survives of Sesser.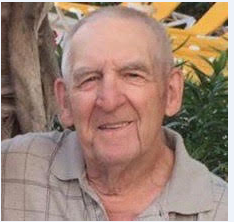 He is also survived by his children Edward (Veronica) Sample of St. Charles, MO, Michael (Pat) Sample of Sesser, and Bradley Sample of Jacksonville; grandchildren Katie Sample, Patrick (Kristy) Sample, Kayla (Cannon) Gowdy, Hunter Sample, Kyle (Elizabeth) Sample, Danica Rich, and Austin Sample; 6 great grandchildren; two sisters Joan Earnheart and Martha Hargis; two brothers Larry Sample and Danny Sample. He was preceded in death by his parents, one son Douglas Sample and one brother Roy Sample.
Bill served in the U.S. Army from 1953-1955 as a supply clerk. He then spent time as a semi-truck driver, car salesman, and other occupations prior to becoming a coal miner in Sparta, IL. His joy was becoming employed by Inland Steel Coal Company where he spent the majority of his 23 years in their maintenance department and finished his coal career as assistant superintendent of maintenance.
He thoroughly enjoyed spending time in the outdoors, hunting and fishing, as both were life-long passions. Equally, throughout his life, he found great pleasure in lending his time, energy, and skills to help anyone who asked or was in need. Bill also served his community as a school board member for ten years and its President during the construction of the new school. He was also an active and long-time member of the Benton Elks, American Legion Post 0560 Bates in Sesser and a member of the Sesser Masonic Lodge.
Funeral services will be on Thursday September 5, 2019 at 2:00 PM at the Brayfield-Gilbert Funeral Home in Sesser with Brother Cannon Gowdy officiating. Visitation will be on Thursday from 11:00 AM until the time of the service at 2:00 PM at the funeral home. Burial will be at the Horse Prairie Cemetery in Sesser.
In lieu of flowers donations can be made to the Sesser-Valier Outdoorsmens Club or to SSM Hospice. Envelopes will be available at the funeral home.
For more information go to our website www.gilbertfuneralhomes.com