Barbara "Barb" A. Rich, 74, of Benton, passed away at 3:11 p.m., on Wednesday, August 21, 2019, at the Herrin Hospital.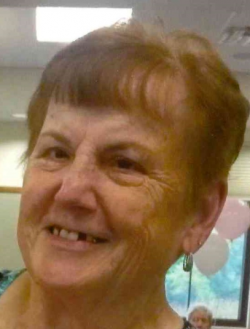 She was born on November 18, 1944, to Lewis and Verna (Clouse) Miles in Vandalia, IL. On May 26, 1967, she married Charles "Frank" Rich.
Barb was a loving mother, grandmother and sister. She was a member of the Benton Elks Lodge 1234, where she was also employed as a cook. She received the honor of being named the 2015-2016 Elks Lady of the Year. Barb was a Cub Scout leader for many years. She was a dear friend to so many and had a heart of gold. Barb was an avid Benton Rangers fan and would quite frequently be seen at many sporting events.
She is survived by her loving sons, Steve (Cindy) Rich and Scott (Jackie) Rich; four grandchildren, Bryn Rich, Brock (Jenna) Rich, Carson (Morgan) Montgomery and Jake Rich; two great-grandchildren, Remington and Oliver; three brothers, Irvin (Linda) Miles, Dean Miles, Allen (Betty) Miles; five sisters, Carol (Bob) Patterson, Betty Phillips, Beverly (Jim) Eldridge, Nancy (Tom) Sieveking and Eva Rexroad; three brother-in-laws, Donald (Karen) Rich, Ronnie (Terralee) Rich, Loren (Sheila) Rich; and one sister-in-law, Verlia Dobsch.
Barb was preceded in death by her parents, Lewis and Verna Miles; her loving husband, Charles F. "Frank" Rich; a sister-in-law, Beverly Miles; and two brother-in-laws, Jay Phillips and Bill Dobsch.
Funeral arrangements have been entrusted to Pate Funeral Home, 301 South Main Street, Benton, IL.
Visitation will be held on Saturday, August 24, 2019, from 10:00 a.m. to 12:00 p.m., at Pate Funeral Home, Benton, IL. Funeral services will be held at 12:00 p.m., on Saturday, August 24, 2019, at the Pate Funeral Home, Benton, IL.
Burial will take place in the Masonic and Odd Fellows Cemetery, Benton, IL. Memorial contributions may be made to the Benton Elks Lodge 1234, and will be accepted at the funeral home.
Online condolences can be given at www.patefh.com.