Roland Fisher, 83, of Christopher, IL passed away Tuesday, August 6, 2019 at his home.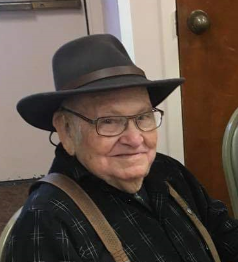 He was born in Macedonia, IL on Nov. 18, 1935, the son of Ben & Cora (Wiggins) Fisher.
He married Betty Jean (Lawson) on July 2, 1959, and she preceded him in death on May 27, 2008.
Mr. Fisher served in the U.S. Air Force during Vietnam from 1955 to 1976, retiring as Master Sgt. Dec 1, 1976. Mr. Fisher was Dietary Foreman for the VA Medical Center in Marion. He loved the Lord, his Church and he was a die-hard St. Louis Cardinals fan, Christopher Bearcat fan, and enjoyed horse racing.
Mr. Fisher is survived by his children, Rebecca Curry, and husband, Darren, of Union, MO, Robert Fisher, of Christopher, Curtis Fisher, and wife Carla, of West Frankfort, IL, Alice Freeman, and husband Sgt. Andrew Freeman, of Marion, IL and Kelly Fisher, of Marion; grandchildren Blake and Zachary Curry, McKenzie and Joshua Mohring, Hannah and Chase McGee, Thomas and Matthew Williams and Gabriel Fisher; sisters Phyllis Harris, of Pikeville, KY and Alice Shanks, of Benton.
Mr. Fisher was preceded in death by his parents, wife & by 2 brothers – Richard & Curtis.
Funeral services will be held at 2:00 P.M. Saturday, August 10th at the Morton & Johnston Funeral Home in Benton with Rev. Bert Mitchell & Rev. David Mitchell officiating.
Burial with Military Rites conducted by the Benton American Legion & VFW Posts will be in the Knob Prairie Cemetery in Akin. Visitation will be after 11 A.M. Saturday at the funeral home.
For more information or to send online condolences please visit www.mortonjohnstonfuneralhome.com