James Robert "J.R." Smith, 82, of Benton passed away on August 4, 2019.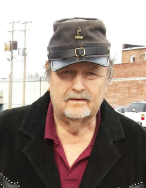 He was born on May 9, 1937 in Rend City, IL to Robert and Eva (Connor) Smith. He married Margarett Ann (Johnston) Smith and she preceded him in death.
He is survived by his daughters Joni (Jimmy) Bruce of Benton and Kimberley (James Leister) Smith of Benton; grandchildren Claudia Bolivar, Ada Mocaby, Bryan Mocaby, Jamie (Matt) Smith and Stayce (Alison McCurley) Leister; great grandchildren Robyn Thomas, Olivia Thomas, Marshall Leister-McCurley, Nora Leister-McCurly, Adonis Westerberg, Aurora Bolivar, Luciano Bolivar, Haydan Jeter, Kayd Jeter and Addlyn Jeter; and one brother Larry Smith of Washington. He was a retired coalminer and was a well known country western singer. He was preceded in death by his parents, wife and one great grandson Claude O'Daniel.
Funeral services will be on Saturday August 10, 2019 at 11:00 AM at the Gilbert Funeral Home in Christopher with Brother George Marshall officiating. Visitation will be on Friday August 9, 2019 from 5:00 PM until 7:00 PM at the funeral home. Burial will be at the Masonic and IOOF cemetery in Benton. In lieu of flowers donations can be made to the Church of Christ in Christopher and will be accepted at the funeral home.
For more information go to our website www.gilbertfuneralhomes.com