Leroy Thomas Spotanski, 93, of Sesser passed away on August 6, 2019. He was born on September 20, 1925 in St. Louis, MO to George Michael and Anna Rose (Kurgenski) Spotanski.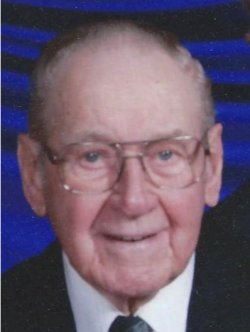 He married Elaine (Harmon) Spotanski on June 26, 1948 and she preceded him in death on December 21, 2014. He is survived by his children Vicki (Joe) Kloepper of Mulkeytown and David (Anita) Spotanski of Waltonville; grandchildren Amy (Kirk) Tipton, Matt (Dawn) Spotanski, Todd Spotanski, Dennis Harris and fiancé Sonya Gunter, Tricia (Barry) Higgins, Doug (Tricia) Harris, Mandy (Brian) Carson, Kristi (Jason) Carter, Jessie (Max) Dicus; 15 great grandchildren; 2 great grandchildren and one brother George M. Spotanski of Scheller. He was preceded in death by his parents, wife, and one son Dennis "Tiny" Spotanski.
Leroy was a TEC Sargent 5 in the United States Army serving during WWII and Korea. He was an active and lifetime member of the VFW Sesser Cox Post 4753 and American Legion Post 0560 Bates in Sesser. He always volunteered for the military funerals and military functions. He was the Sesser Goode Township Supervisor for 23 years and served on the Sesser Police Commission Board for 23 years. He also served on the Franklin County Board for over 20 years. He worked at the Rend Lake College as Director of the Physical Plant until his retirement in 1987. He loved to fish and play golf. He had four hole-in-ones on the Pinckneyville Golf Course. He has been a member of the Roman Catholic Church in Sesser for 78 years and a lifetime member of the Knights of Columbus in Christopher.
Funeral Mass will be held on Saturday August 10, 2019 at 1:00 PM at the St Mary's Catholic Church in Sesser with Father John Iffert officiating. Visitation will be on Friday August 9, 2019 from 5:00 PM until 8:00 PM at the Brayfield-Gilbert Funeral Home in Sesser. Burial will be at Maple Hill Cemetery in Sesser. In lieu of flowers donations can be made to the Southern Illinois Honor Flight and will be accepted at the funeral home.
For more information go to our website www.gilbertfuneralhomes.com