Cyril "Huck" Leon Smothers, 80, of Sesser passed away Monday, July 22, 2019 peacefully with his family by his side. He was the husband of Gayla (Roberts), they shared 60 years of marriage.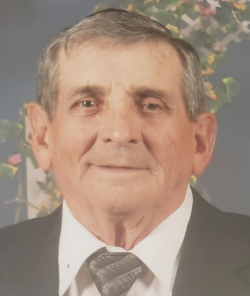 Born in Valier, Cyril was the son of Vernon and Marie Smothers. He graduated in 1956 as a member of the Army Reserves and remained a loyal Bluebird. His career path kept him in Southern Illinois where for 32 years he was a proud Union Member and Coal Miner at Inland Steel/Consolidated Coal.
In 2014, his dedication and hard work did not go unnoticed, he received the prestigious honor of Coal Miner of the Year. He would tell you his greatest life achievement was the title of Dad and Papa. He was a hero to his daughter and a best friend to his son. Cyril was an avid outdoorsman who enjoyed hunting, fishing and trapping. He shared his love and knowledge for the outdoors with all his loved ones. He was so proud of each of his grandchildren and provided them a lifetime of great memories. In the last 5 years, he was blessed with great grandchildren who brought him so much joy. Cyril was a member of the Methodist Church of Sesser and also Sesser Masonic Lodge. You could often find him courtside at a Sesser basketball game, enjoying dinner with longtime friends or tinkering in the garage.
He is survived by his wife Gayla Smothers of Sesser; one daughter Pamela (Kevin) Cummings of Mt. Vernon; one son David (Tricia) Smothers of Marion; grandchildren Heath (Kristin) Tepovich of Richmond, IL, Mallorie (Anthony) Upegui of Troy, IL, Kolton Cummings of Olympia, WA and Peyton Wall of Marion; great grandchildren Keegan Upegui , Kamryn Upegui, Hudson Tepovich and Danica Tepovich; and one brother Phillip Smothers of Pekin.
He was preceded in death by his parents.
Funeral services will be on Saturday July 27, 2019 at 2:00 PM at the First United Methodist Church of Sesser with Brother Mark Miller officiating. Visitation will be on Saturday from 11:00 AM until the time of the service at 2:00 PM at the church. Burial will be a Maple Hill Cemetery in Sesser.
He will be greatly missed and remembered as a great husband, father and friend.
In lieu of flowers donations can be made to the First United Methodist Church or to the Sesser-Valier Athletic Department. Envelopes will be available at the church.
For more information go to our website www.gilbertfuneralhomes.com