Helen Lucille Kirkpatrick Galloway went home to be with the Lord on Wednesday, May 15, 2019 surrounded by her three beautiful daughters.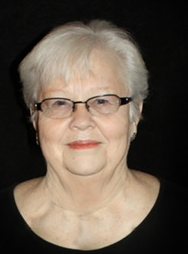 She was born to Virgil "Whitey" and Elizabeth Kirkpatrick on August 25, 1939 in Du Quoin, Illinois.
She married Donald Lee Galloway on July 27, 1957 in Sesser, Illinois. They enjoyed over 50 years of marriage and were blessed with four children. She was a mother, Tupperware manager, but best remembered in her community as Mrs. Helen, our bus driver. She enjoyed painting, quilting, traveling and spending time with her family. She was a Christian and helped plant the Butterfield Freewill Baptist Church in Aurora, Illinois and was a member of Hazel Dell Freewill Baptist Church in Sesser.
She is survived by her daughters, Debbie and Jeff Staley, of Mt. Vernon; Diana and Steve Rea, of Benton; Dana and Darrell Kingore, of Ozark, MO; daughter-in-law, Shelly Galloway-Thies and husband, Jeff of Sesser; and one sister, Virginia and Jerry Brachear of Saginaw, MI. She was preceded in death by her husband, Don, and beloved son, Danny. She adored her grandchildren, Dacey, Abbi, Allison, Ben, Dustin, John Palmer, Dayton, Daelon, Will, Dason, Drennon, Dreanna, and many great-grandchildren. She also leaves behind many brother and sister-in-laws, nieces and nephews.
Vistation will be held on Sunday, May 19, 2019 from 5-8PM at Brayfield-Gilbert Funeral Home in Sesser with a celebration of her life on Monday, May 20, 2019 at 10AM. In lieu of flowers the family asks that donations be made to pancan.org/donate or accepted at the funeral home for Pancreatic Cancer Research in memory of her son, Danny Galloway.
For more information go to our website www.gilbertfuneralhomes.com