Michael Terry Patchett, 57, of Christopher passed away on March 12, 2019.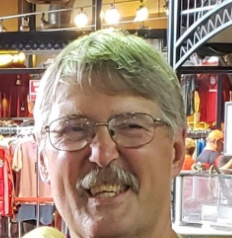 He was born on December 2, 1961 to Edmund "Terry" and Mary Ennis (Snider) Patchett. He married Mary Ann (Harrison) Patchett on June 24, 1989 and she survives of Christopher.
He is also survived by his daughters Tiffanie (Dustin) Young of West Frankfort, Samantha (Levi) Webb of Christopher and Morgan (Max) Garrison of Beebe, AR; grandchildren Kase Michael Young, Korbin Ray Young, Lynnex Marie Webb and Jackson Logan Webb; one sister Elizabeth Patchett and Micah Lewis of Stonefort, IL; one brother Matt Patchett and Yvonne Milam of Mulkeytown.
He was a custodian and bus driver at the Christopher Unit School District #99.
Funeral services will be held on Saturday March 16, 2019 at 7:00 PM at the Gilbert Funeral Home in Christopher with Brother Gary West officiating. Visitation will be on Saturday from 5:00 PM until the time of the service at 7:00 PM.
In lieu of flowers, donations can be made to the Michael Patchett Memorial Scholarship and will be accepted at the funeral home.
For more information go to our website www.gilbertfuneralhomes.com