Betty Faye Bruce, 79, of Benton, IL passed away Saturday night, February 23, 2019 in Benton.
She was born in Haleyville, Alabama on May 22, 1939, the daughter of Flonace & Jessie "Jackie" (Reynolds) Pratt.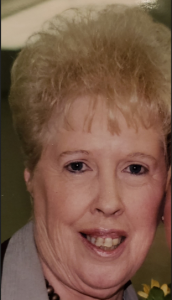 Betty married Randall L. Bruce on October 13, 1956, and he preceded her in death on April 1, 2013.
Mrs. Bruce is survived by her children, Larry Bruce, and wife Marilyn, of Benton, Jerry Bruce, and wife Vera, of Benton, Pamela (Bruce) Pittman, of Harrisburg, IL and Steven Bruce, and girlfriend Victoria, of Centralia; grandchildren Melissa Ancona, Larry Bruce, Jr., and wife Karie, Christy Johnson and husband Jeremy, Brian Pittman, and fiancée Elizabeth, Stacia Sloan, and husband Andrew, Amy Kolodziej, and husband John, Steven "Matthew" Bruce, and wife Sarah and Kelly Dillion; great-grandchildren Jessie, Chole, Hunter, Haley, Kalen, Alyssa, Tenzley, Sandler, Thomas and one due in April, Kinsley, Bentley, Dylan, Kailee, Hannah and Olivia; one sister Robbie Tolley, of Benton.
Mrs. Bruce was preceded in death by her Parents, Husband and by 1 Brother-Tony Rex Pratt.
Funeral services will be held at 1:00 P.M. Tuesday, February 26th at the Morton & Johnston Funeral Home in Benton with Pastor Harol Whitlock officiating. Burial will be in the Masonic & Oddfellows Cemetery in Benton. Visitation will be after 11:00 A.M. on Tuesday at the Morton & Johnston Funeral Home.
For more information or to send online condolences please visit www.mortonjohnstonfuneralhome.com