Ms. Bryan Ann (Tedrow) Wilt, age 82, of Benton, passed away Friday, February 8, 2019 at her daughter's home.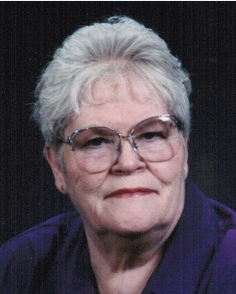 Celebration of Life Services will be held at 7:00 p.m. Monday, February 11, 2019 at the Whittington Church, with Rev. Mark Minor and Rev. Greg Shelton officiating. Visitation will be from 5:00 p.m. to 7:00 p.m. Monday at the Whittington Church.
Private family burial will be in the Masonic and Odd Fellows Cemetery of Benton.
The Leffler Funeral Home of Benton is in charge, of the arrangements.
Bryan was born on January 27, 1937 in Benton, the daughter of William Dean Tedrow and Virginia Dare (Knowles) Tedrow.
Ms. Wilt was a retired switchboard operator, having worked for St. John's Hospital in Detroit, Michigan.
She was a member of the Whittington Church, and was a member of the Rend Lake Piece Makers Quilt Guild.
Bryan enjoyed quilting, art, painting, writing out the Bible (long hand), and playing dominoes and cards with her family.
Surviving are four children: Robert John Wilt and wife Robin of Arena, WI, Patricia "Patty" Shelton and husband Greg of Benton, Daniel James Wilt of Benton, and Cheryl Ann Wilt of Benton; four grandchildren: Jonathan Wilt, Jessica Wilt, David Shelton and wife Alicia, Patrick Shelton; five step-grandchildren Trish Allan, Sandy McCartney, James Hrobsky, Raeann McBride, Cara Lynn McBride; numerous great-grandchildren; a brother Steve Tedrow and wife Barbara of Troy, MI; a sister Margaret Carter of Benton; a sister-in-law April Tedrow; and several nieces, nephews and cousins.
She was preceded in death by her parents, an infant son William Dean Wilt; a brother David Tedrow; and a daughter-in-law Tina Rae Wilt; a brother-in-law Ed Carter.
Memorial contributions may be made to the Whittington Church building fund, and will be accepted at the church.
To leave online condolences to the family, or to share memories of Ms. Bryan Ann Wilt, visit www.lpfuneralhome.com