Eva June Garrison, 96, long time resident of Benton died at 12:15 a.m., on Monday, February 4, 2019, at her home in Benton. Beloved daughter of Pauline and Joseph Myers, Eva was born on June 1,1922, in Benton, IL.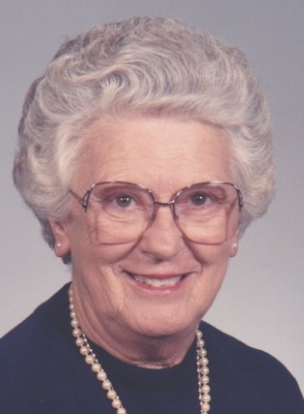 After high school she moved to Detroit, MI, living and working with her Aunt Maude. After less than a year and missing her home town and family, Eva returned to Benton. There she met a high school classmate, now handsome Army Air Corp Pilot, Robert Garrison, and married him on December 16, 1945, in Benton, IL.
In 1946, after Robert's discharge from the Air Corp, the young couple with their daughter moved to Fort Lauderdale, FL., where Robert returned to playing professional baseball, while Eva created the first of many homes for her family.
In 1949, with Eva pregnant with their second daughter, the young family returned to Benton. The next two years Robert worked in the coal mines and built Eva their first real home where Eva nurtured her family.
Robert was recalled to the Air Force in 1951. For the next 18 years Eva would create homes for her family in Selma, Alabama, Las Vegas, Nevada, Youngstown, Ohio, and Bunker Hill, Indiana where their son was born.
The family was then stationed in Bitburg and Wurzburg Germany. After three years overseas their final assignment was in Kansas City, KS.
In 1971, Eva and Robert with their son, retired to Benton where both were able to support their aging parents and also started the Garrison Christmas Tree Farm.
Eva enjoyed being a housewife, a loving daughter, niece, wife, mother, grandmother and great-grandmother. Family was always her first priority.
She was a charter member of the Benton Library and was an avid reader her whole life. She was a Girl Scout Leader for her daughters' troops and was a member of the First Baptist Church.
Eva was a gentle, positive person who loved life, her family and her friends. She had a terrific sense of humor, which only improved with age and an ironclad memory that amazed everyone.
Eva was preceded in death by her husband of 72 years and her parents. She is survived by her three children; Rosemari Davis and husband Bill of McMinnville Oregon, Roberta "Bobbi" Garrison Smith and husband Richard of Seattle Wash, and Robert "Mike" Garrison of St. Louis Mo., four granddaughters Kris Simmons, Kim Kayfes, Ashley and Reilly Smith, and seven great-grandchildren and beloved dog Jack.
The family would like to extend a special thank you to Dr. Richard Rethorst and staff (Margaret), and dear friends Marguerite Matyi, Tom Saxe, Keith and Jeanne Bragg, John Rhone and David Linn for their support throughout the years.
Funeral arrangements have been entrusted to Pate Funeral Home, 301 S. Main St., Benton, IL.
Visitation will be held from 10:00 a.m. to 11:00 a.m., on Saturday, March 2, 2019, at Pate Funeral Home. The Memorial Service will be held at 11:00 a.m. Burial will follow services at Masonic & Odd Fellow Cemetery, Benton, IL. Immediately following graveside services a luncheon will be hosted at the Benton Elks Lodge.
Eva loved her pets and would be honored by memorials to the Second Chance Rescue of Franklin County or to her second love the Benton Public Library, memorial contributions will be accepted at the funeral home.
Online condolences can be given at www.patefh.com.