Lillian G. Newman, age 88, of Benton, went home to be with The Lord Jesus, her Savior, on Friday, February 1, 2019 at the SSM Good Samaritan Hospital of Mt. Vernon.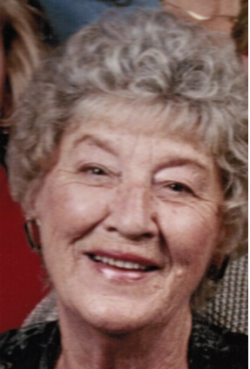 Funeral Services will be held at 1 p.m. Wednesday, February 6, 2019 at the Faith Missionary Baptist Church of Christopher with Rev. Alan Newman officiating. Burial will be in the I.O.O.F. Cemetery of Du Quoin. Visitation will be from 11 a.m. to 1 p.m. Wednesday at the church.
Funeral arrangements are through the Leffler Funeral Home of Benton.
Lillian was born on September 18, 1930 in Du Quoin, Illinois, the second of four children of George R. Cavins and Gladys Fern (Isaacs) Cavins.
She along with her sisters and brother developed a passion for all styles of dancing and sometimes singing. She learned the disciplines and the rewards of hard work, as well as the value of a nickel.
She married Vernon Newman on August 11, 1947. Together they had four sons. Vernon preceded her in death on September 11, 1997.
She was a homemaker first and foremost, who cooked daily meals, kept a neat and spotless home, help raise four sons, and did the books for the family business.
She was a faithful wife, a loving mom and grandma that provided her family with tremendous care, but had no problem lowering the boom (taking a switch or a paddle) to any of the previous mentioned, to help them see the path of Lill more clearly.
She had great talent with art and design, often making clothing or costumes for her children, grandchildren, as well as for herself, for all types of occasions. Her drawings and paintings were inspiring as well as winning some unique awards for her talent.
She enjoyed being outside working in her flower gardens, a true green thumb.
She loved her grandchildren and great-grandchildren and would light up anytime they came to visit.
She was not an avid fisherman but, did enjoy fishing with a pole and bobber.
She enjoyed singing and teaching long forgotten "Silly Songs" and Nursery Rhymes to her grandchildren. And she loved listening and singing the old church hymns.
However, her greatest decision in life was to put her faith in Jesus as the Son of God and take Him into her heart. This took place as a young girl at the First Christian Church in Du Quoin. She later, along with her husband, followed in baptism and joined East Benton Baptist Church in 1951. She served the Lord through different ministries in the church ranging from cooking and providing meals, VBS worker, nursery worker, getting folks to and from church and on occasion quieting down rowdy young boys. In more recent years, when her health allowed, she would attend Faith Missionary Baptist Church of Christopher. This is what helped her to make those very important decisions to say good job or bend over and hold still, to teach her family that everyone regardless of color or wealth has the same equal chance at them. To not be bad, but good and treat others the way you would want to be treated. That decision for Christ, has also guaranteed Heaven as her home.
She was a grand woman of great determination, strength and purpose and she will be deeply missed by her family and friends.
Surviving are her four sons: Larry Newman and wife Debbie of Zeigler, Gary Newman and wife Deanne of Thompsonville, Alan Newman and Craig Newman both of Benton; four grandchildren: Shelley and husband Dave Webb, Travis Newman and wife Katlyn, Brandon Newman and fiancee Cortney, Nicole Newman; five great-grandchildren: Kaylee, Aiden, Clayton, Bentley, Caisey Jo, and a great-grandchild expected to be born this year; and a great-great-grandchild also expected to be born this year; one brother Bruce Cavins and wife Diane of Du Quoin, and several nieces and nephews.
Lillian was preceded in death by her parents, husband, and two sisters: Elaine Provenzano, and Georgia Zabel.
In lieu of flowers, memorial contributions may be made to the Faith Missionary Baptist Church of Christopher, or to the Franklin County Animal Shelter.
To leave online condolences to the family, or to share memories of Mrs. Newman, visit www.lpfuneralhome.com