Helen J. Crowell, 89, of Benton, IL passed away at 7:25 p.m., on Saturday, February 2, 2019, at the Heartland Regional Medical Center, Marion, IL.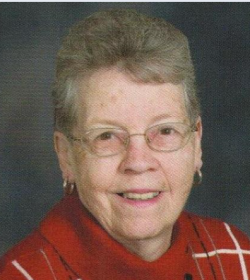 She was born on December 2, 1929, to Lloyd and Lesta (Marks) Finney in Marion, IL. On October 6, 1950, she would marry Harvey "Roscoe" Crowell.
Helen was a member of Immanuel Baptist Church. She was a loving mother, grandmother and sister. She enjoyed visiting with family and friends and shopping.
Helen is survived by her two daughters, Patricia "Patty" (Richard) Melcher of Benton, IL, and Kimberly Jo (John) Renik of West Frankfort, IL; three grandchildren, Lori (Eric) Davis, Steven (Sarah) Melcher and Rachel Renik; four great-grandchildren, Lydia Davis, Bryant Davis, Scarlett Melcher, Declan Davis and a fifth great-grandchild on the way; and a sister, Betty Stephens.
She was preceded in death by her husband, Harvey "Roscoe" Crowell; and parents, Lloyd and Lesta (Marks) Finney.
Funeral arrangements have been entrusted to Pate Funeral Home, 301 S. Main St., Benton, IL.
Visitation will be held Saturday, February 9, 2019, from 9:00 a.m. to 11:00 a.m., at Pate Funeral Home.
Funeral services will be held at 11:00 a.m., following visitation at the funeral home, with Rev. Sammy Simmons, officiating.
Burial will take place in the Masonic and Odd Fellows Cemetery, Benton, IL.
Memorial contributions may be made to the Immanuel Baptist Church Building Fund, and will be accepted at the funeral home.
Online condolences can be given at www.patefh.com.