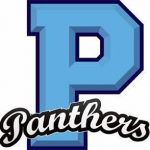 PEORIA –  All State Center 6′ 9″ Andrew Morrisey was better than advertised, as he led Bago with 29 points and 16 boards as they defeated Pinckneyville 67-63, in the Class 2A semi-finals in Carver Arena tonight.
Dawson Yates led the Panthers with 16 points, J.C. Moll added 14, and Tanner Sphilmann added 11 for Pinckneyville in the losing effort.
The Panthers will face football powerhouse Bloomington Central Catholic in the third place game at 5:30 tomorrow.  Central was defeated by Chicago Orr 60-49 in the other semi final game.
The Championship game between Winnebago and Orr will be at 7:15 tomorrow night.
LINK FROM JACK BULLOCK OF A BASELINE VIEW 
http://abaselineview.com/abvpinckneyvillewinnebago.html
LINK FROM SCOTT MEES OF THE SOUTHERN ILLINOISAN 
http://thesouthern.com/sports/high-school/basketball/boys/boys-basketball-pinckneyville-s-comeback-falls-just-short-to-winnebago/article_d7a1a3a6-f3ae-507a-b383-a5145c02477b.html#tracking-source=home-breaking
LINK FROM STAN MORRIS OF THE PEORIA JOURNAL-STAR 
http://www.pjstar.com/sports/20180309/class-2a-semifinal-winnebago-survives-pinckneyville-late-push-to-advance-to-title