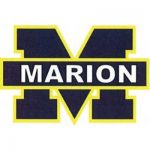 CENTRALIA — When it mattered most, Marion's defense rose to the occasion.
The Wildcats trapping 1-2-2 zone seemed to keep Columbia off balance all night, resulting in 18 turnovers and a 49-41 win over the Eagles in the Centralia Class 3A sectional.
"We haven't played that way for 10 or 12 games, but we felt like that was the best plan against them, to go 1-2-2 and trap them a little bit more," said Marion coach Gus Gillespie. "We go from game-to-game, I'm glad our kids were very active in it."
Please click on the link for the full story from Les Winkeler from the Southern Illinoisan.
http://thesouthern.com/sports/high-school/basketball/boys/boys-basketball-marion-advances-to-sectional-final-with-win-over/article_25ae13ab-1ff0-56aa-96ae-a1e4ce67d860.html