From Len Novora – Murphysboro HS Athletic Director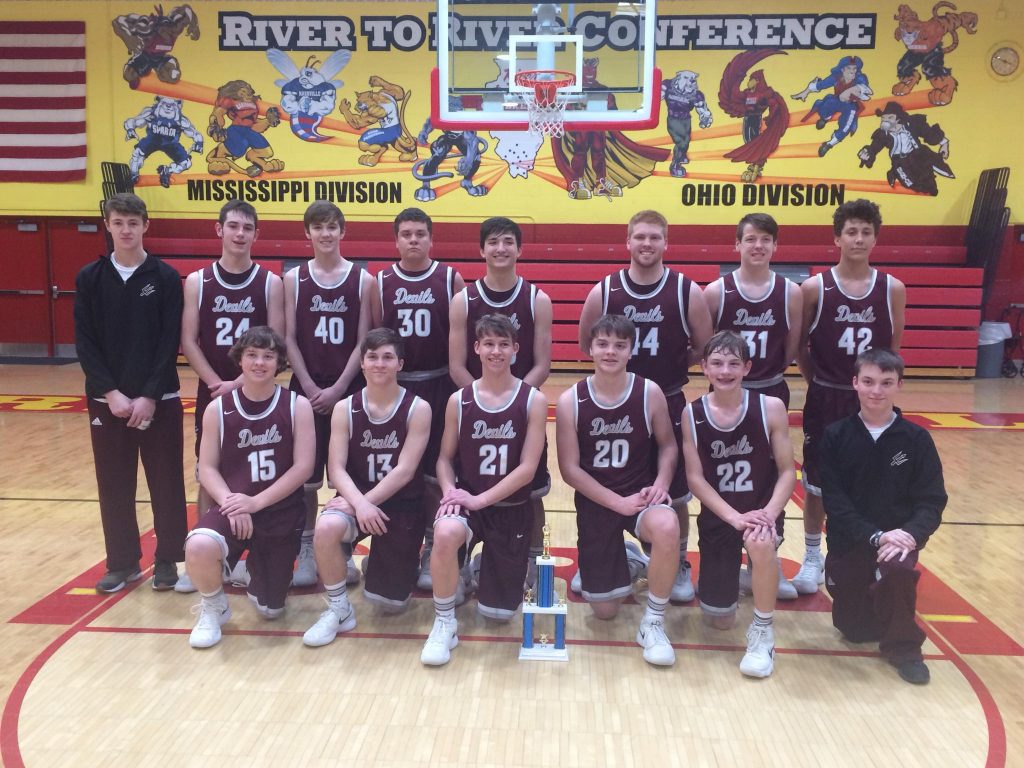 MURPHYSBORO – Sesser Valier won the consolation bracket of the Murphysboro Sophomore Tournament by beating a very good Hamilton County Foxes team, 60-48.
In the consolation semi-finals they beat 3A Marion, 67-39.
Tanner Eubanks of Sesser-Valier made the All Tournament team.  Special mention goes to Logan Kirk and Peyton Bates of S-V, Corbin Fitch of Thompsonville, and Josh Melvin of West Frankfort.
The full all tournament team as well as the scores for the full tournament are below.
Team recognition went to:
1st Place – Murphysboro
2nd Place – Breese Central
3rd Place – Nashville
4th Place – DuQuoin
5th Place – Sesser-Valier
6th Place – Hamilton County
First Team All-Tournament:
Dezmond Clark – Murphysboro
Terry Pelczynski – Nashville
Tanner Eubanks – Sesser-Valier
Robbie Morgan – Hamilton County
Jacob Green – DuQuoin
Emit Jansen – Breese Central
Austin Hagel – Steeleville​
Special Mention
Luke LeQuatte – Herrin
Isaac Kranawetter – Trico
Tristen Hercules – Nashville
Cornelius Davis – Murphysboro
Jamarr McZeke – Murphysboro
Peyton Bates – Sesser-Valier
Logan Kirk – Sesser-Valier
Bradon Thomas – Breese Central
Cavan Cameron – Marion
Carter Wiegard – Red Bud
Haddon Lybarger – Salem
Trent Boles – Salem
Wade Roberson – DuQuoin
Corbin Fitch – Thompsonville
Garrett Webb – Hamilton County
Ian Reith – Chester
Josh Melvin – West Frankfort
Jordan Wininger – Johnston City
All individual recognition determined solely by the Red Devils Tournament staff. There are no medals or certificates, just the recognition.
Dates for next year's tournament: Feb 23, 25, 28 & March 2, 2019!
Complete Scoreboard for the Tournament